Weekend Events Oct 28-30: Human Origins Discussion, Air and Scare, and Horse Nation Opening
This weekend, hear from experts on human evolution, go trick-or-treating in a museum, and celebrate the opening of a new American Indian exhibition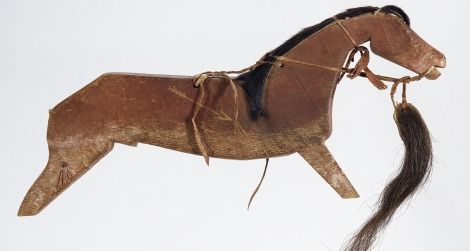 Friday, October 28 Human Origins
As part of the HOT (Human Origins Today) Topics series, graduate students Jibril Hirbo and Felicia Gomez from the University of Pennsylvania will lead an informal discussion on the science behind human variation and its role in our species' evolution. The talk will address disease, race and natural selection, and will be followed by a Q&A session with the experts. Free. 3 to 4 p.m. Natural History Museum, within the "Let's Talk About RACE" exhibition, 1st floor.
Saturday, October 29 Air and Scare
Bring the whole family to go trick-or-treating in a Smithsonian museum. Arrive in costume ready to make crafts, see spooky science experiments and participate in other interactive Halloween activities. The Tot Zone is perfect for small children to play dress up and hear a story. Free, with $15 for parking. 2 to 8 p.m. Air and Space Museum, Udvar-Hazy Center, near Dulles International Airport.
Sunday, October 30 "A Song for the Horse Nation" Opening Festivities
The American Indian Museum celebrates the arrival of its newest exhibition, "A Song for the Horse Nation," which examines the dynamic relationship between Native Americans and the horse. As part of the celebration, events will be held at both the museum and the Washington International Horse Show, outside the Verizon Center, with free shuttles running between the two locations. Activities start at 10 a.m. on both Saturday and Sunday, and will include war-pony painting demonstrations, storytelling, exhibition tours, pony rides, art lessons and more. The opening ceremony, at 3 p.m. on the 29th, will feature Crow equestrian Kennard Real Bird, as well as the D.C. Mounted Police. All activities are free. American Indian Museum's outdoor plaza and Verizon Center.
For a complete listing of Smithsonian events and exhibitions visit the goSmithsonian Online Visitors Guide. Additional reporting by Michelle Strange.