Weekend Events Nov. 25-27: Zoo Lights, Make Them Walk and What's in the Castle?
This week, come of the opening of the Zoo's holiday light show, make your own art and get a guided tour of the Smithsonian Castle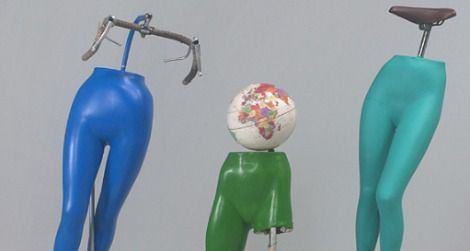 Friday, November 25 Zoo Lights
Zoo Lights is the National Zoo's annual holiday show of light displays, special animal exhibits and entertainment. Starting this Friday, come to the Zoo during the evening and enjoy an LED light show illuminating the trees, walkways and buildings, life-size animal light silhouettes and the Zoo's new "iceless" skating rink featuring a high-tech acrylic material. The area's only free holiday light show runs from 5 to 9 p.m. on Friday through Sunday nights, November 25 to December 11 and December 16 to January 1. National Zoo.
Saturday, November 26 Make Them Walk
Join local artist BK Adams for a creative and hands-on journey through his exhibition "Exercise Your Mynd." After a personal tour of the show, Adams will work with attendees in helping them make their own 3-dimensional walking figures. Free, with reservations required at 202.633.4844. 10:30 a.m. to 12:30 p.m. Anacostia Community Museum.
Sunday, November 27 What's in the Castle?
Come for a guided tour of the Smithsonian Institution's iconic Castle. Learn about founder James Smithson, as well as the architecture of the building. The docent-guided tour will cover all public areas of the building, including Smithson's crypt, the Great Hall and the West Wing. Free. Tours are conducted Sundays at 10:30 a.m., Mondays and Fridays at 9:30 a.m., and at both times on Saturdays. Smithsonian Castle, meet at information desk.
For a complete listing of Smithsonian events and exhibitions visit the goSmithsonian Visitors Guide. Additional reporting by Michelle Strange.