Weekend Events June 24-26: Castle Tour, Stories for Children and Portrait Gallery Exploration
June 24-26, take a look inside the Smithsonian Castle, a story you and your children will love and a new way to view the National Portrait Gallery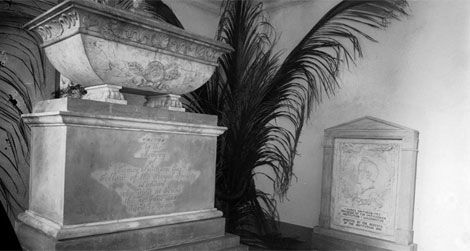 Friday June 24 Soak Up the History
Come see where it all began this Friday with a trip to the Smithsonian Castle. At 9:30 AM meet at the Information Desk of the Castle to find a friendly docent who will take you on a tour that hits all the highlights of the Smithsonian's first building and museum. Visitors can learn how the Smithsonian Institution was founded and the discover the unique architecture of the building. Be sure not to miss James Smithson's crypt, the Great Hall or the West Wing. (Yes, the real James Smithson is in the building.) This free event is open to the whole family but is only offered once a day.
Saturday June 25 Story Time
Cuddle up with your young one today for a good start to your morning. Join the staff of the Air and Space Museum for Flights of Fancy—Stories for Children. Saturday's story will be  Mommy's Little Star, by Janet Bingham, a book about the beauty of the natural world and the warmth of family love. In this story a little fox and his mother explore the night sky together. After the story, visitors are invited to join in an art activity. The program begins at 11, but be sure to ask the museum's Welcome Center in the South Lobby for the location of the event.
Sunday June 26 Exploration Portrait Gallery
Give traditional museum viewing a rest for the day and join the National Portrait Gallery as they offer up a new, and free, way to explore the museum. From 1 to 4, families and children (ages 5 and up) are invited to borrow a Portrait Discovery Kit. The kit includes a self-guided, interactive and imaginative way to learn about the subjects of the paintings and the roles they played in shaping American history. Explore the museum using seek-and-find cards. Play a sleuth with your portrait detective and historian guides. Follow your inspiration by drawing with your self-portrait pads. Then try the compare-and-contrast activity. Museum educators will explain how to use the kit before exploration begins. Kits are available on a first-come, first-served basis. To borrow a kit, all you need to do is leave a cell phone number and an email address at the Education Center (Room E151) located on the South side of the 1st floor.
For a complete listing of Smithsonian Museum events and exhibits go to the GoSmithsonian Visitors Guide.