Weekend Events Feb 3-5: Under the Stars, Black History Month Family Day, and The Big Sleep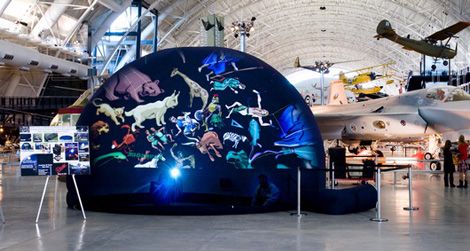 Friday, February 3 Under the Stars
Explore the night sky up close from the Air and Space Museum's observatory with astronomers and astronomy educators who will guide you through the different planets and constellations of the winter sky. Then zoom out for a view of the universe in the museum's inflatable planetarium. $25 general admission, $20 for members. 8:00 p.m. to 10:00 p.m. Air and Space Museum.
Saturday, February 4 Black History Month Family Day
Celebrate the start of Black History Month with performances including the blues stylings of "Guitar Man" Warner Williams and a puppet show, Can You Spell Harlem? Plus, learn the art of step in a workshop by the Taratibu Youth Association step performers. After the festivities end, head over to the McEvoy Auditorium for a screening of Chris Rock's documentary, Good Hair. Free. 11:30 a.m. to 3:00 p.m. Film screening at 3:30 p.m. National Portrait Gallery and American Art Museum.
Sunday, February 5 The Big Sleep
Classic film noir The Big Sleep is breaking in the American History Museum's brand new Warner Brothers Theater on Sunday. First, join NPR film commentator Murray Horwitz for a pre-screening discussion of historical tidbits and elements to pay attention to in the film. Afterward, let private eye Phillip Marlowe (Humphrey Bogart) lead you through a whirlwind of blackmail, murder and love in this 1946 masterpiece. Free. Pre-film talk at 1:00 p.m. Screening starts at 2:00 p.m. Warner Brothers Theater, American History Museum.
For a complete listing of Smithsonian events and exhibitions visit the goSmithsonian Visitors Guide. Additional reporting by Michelle Strange.