Weekend Events: Elvis Festival, Concert at the Zoo and a Hirshhorn Gallery Talk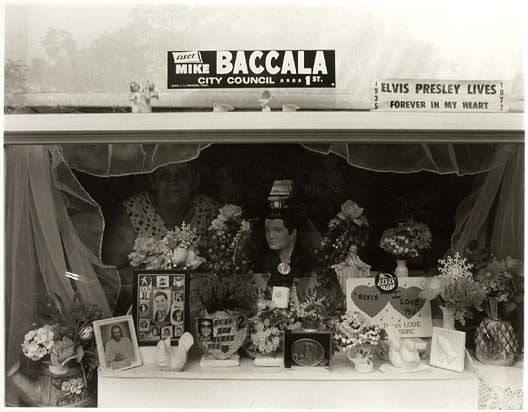 Friday, January 22: Hirshhorn Collection: Friday Gallery Talk
Come enjoy a tour of Hirshhorn highlights conducted by DC-area sculptor Mary Early. Free. Hirshhorn, 12:30-1:00 PM
Saturday, January 23: Elvis is in the Building!
Although he's been gone for almost 33 years, we just can't help falling in love with Elvis. In honor of one of American pop culture's largest icons, the National Portrait Gallery is hosting a bona-fide Elvispalooza! Break out your rhinestone jumpsuit and throw on your best pair of blue suede walking shoes and come on out for the following festivities:
11:30 AM-3 PM: Craft activities for children

12 Noon & 2:30 PM: Curator-led tours of the exhibition Echoes of Elvis

12:30 PM & 2:30 PM: Performances by Elvis tribute artist Will Debley. (Maybe it'll inspire you to go home and put 3,000 Miles to Graceland on your Netflix queue?)

1 PM: Discussion and book signing by George Klein, one of Elvis' high school classmates and author of Elvis: My Best Man

1:30-4:00: Registration for Elvis costume contest begins. See 4:00 listing for more details.

4:00-4:30 PM: Parade of Elvises: Want to show off your best Elvis costume? Come show it off in this costume contest!

5 PM: Have a swingin' time at a screening of the 1964 film Viva Las Vegas where love blooms between Elvis and Ann Margaret in the sin city.
Adults and children can also come dressed as Elvis at any age if they would like to participate in a costume contest.
Sunday, January 24: Wild Side Stage
Hey kids, take a walk on the wild side with this latest installment of the National Zoo's kid-oriented concert series. Today, the CityDance Ensemble, DC's leading modern dance company, is performing a fantastic adaptation of Rudyard Kipling's The Jungle Book. After the show, enjoy activities in the Reptile Discovery Center. You'll be charmed, I'm sure. Rates are: $7 general admission; $5 for FONZ members. Tickets may be purchased at any National Zoo store ahead of time or online at Ticketmaster.com. Tickets will also be sold at the door; however, please be advised that only a limited number of tickets will be available. National Zoo, 11:00 AM. This concert repeats today at 1:00 PM.