Weekend Events August 5-7: Chinese Comedy, Story Time, and the Star-Spangled Banner
A Chinese film screening, fold the Star-Spangled Banner and other upcoming events for the weekend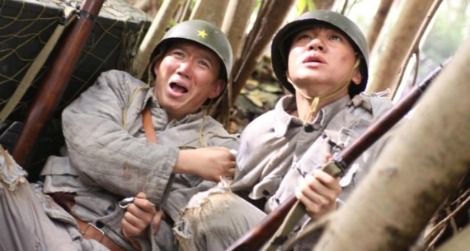 Friday, August 5 Hong Kong Comedy
Get a taste of buddy comedy, Chinese-style—come to the launch of the 16th Annual Made in Hong Kong Film Festival. In La Comédie Humaine, a 2010 release, a hit man from mainland China rolls into town for a kill only to fall ill in the care of a bumbling screenwriter. The film, starring, Chapman To and TV star Wong Cho-lam, is in Cantonese and will be shown with English and Mandarin subtitles. Films from Hong Kong will continue throughout the month. Free. 7 PM. Will be shown again at 2 on Sunday, August 7. Meyer Auditorium at Freer Gallery.
Saturday, August 6 Fold the Star-Spangled Banner
How do you fold a 1,260 square foot flag? Check out this demonstration—featuring a replica of the 30 by 42-foot Star-Spangled Banner—and find out. The original was commissioned during the War of 1812 and flew during the bombardment of Fort McHenry as Francis Scott Key penned the lyrics that would become our national anthem. Today, it's on display behind a glass wall as a centerpiece of the American History Museum. Although you can't handle the real thing, this 15-striped-and-starred replica is on display in Flag Hall on the 2nd floor, and honor guards will show you how to properly fold the banner according to the Flag Code. Free. Thursdays-Saturdays at 3:30 through August 24. National Museum of American History.
Sunday, August 7 The Woman Who Swam the English Channel
Come to the Portrait Gallery's family-friendly Story Days event series and learn about a notable person who has had a big impact on American culture. Today, curators will discuss Gertrude Ederle, who achieved international fame in 1926 by becoming the first woman to swim the English Channel. Learn about how she battled the currents for more than 14 hours, set a new world record, and returned home for a ticker-tape parade down Broadway. Afterwards, you'll have the chance to make your very own piece of art. Free. 2 to 5. Education Center at National Portrait Gallery.
For a complete listing of Smithsonian events and exhibitions, visit the goSmithsonian Visitors Guide.