Wednesday Roundup: Space Suits, Diaries and Native Music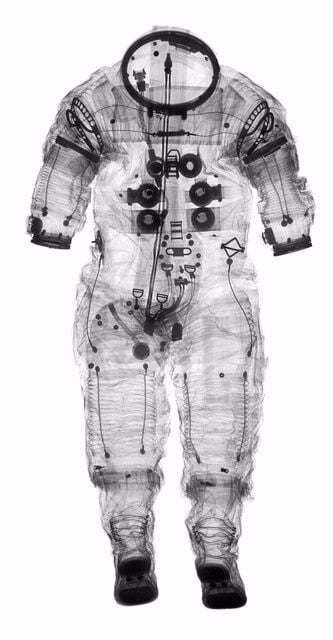 Inner Workings of the Space Suit: This week, the AirSpace blog exposes one of their spacesuits from the inside out using X-Ray imaging. Until now, the only way to glimpse the inside of these high-tech uniforms was to shine a flashlight down the wrist or neck of the outfit. But recently, Mark Avino, chief of photographic services at the Air and Space museum undertook the challenge of doing a complete X-Ray of Alan Shephard's Apollo 14 spacesuit. The result is now featured in the book, Spacesuits: The Smithsonian National Air and Space Museum Collection.
Thanksgiving in the Smithsonian: Mary Henry (1834-1903) was the daughter of Joseph Henry, the very first Smithsonian Institution secretary. Her diary provides a firsthand account of a pivotal period in the history of the United States, spanning the years of the Civil War and early Reconstruction. One personal anecdote, quoted in a post this week on The Bigger Picture, describes Henry's Thanksgiving day in the Smithsonian Castle, where she lived.
Up Where He Belongs: The American Indian Museum's Current exhibit, "Up Where They Belong: Native Americans in Popular Music" tells the stories of Native Americans in every genre of music, from rock to hip-hop to jazz (see my article on the exhibit in the October issue). The NMAI blog has posted an interview with one of the most well-known musicians in the exhibit, Robbie Robertson, who is perhaps best known as a member of The Band and for writing the song "Up on Cripple Creek." Robertson talks about his favorite artists and what he's learned in his long career as a Native musician.
Freer/Sackler Annual Auction: The Freer and Sackler Galleries opens its annual auction today in conjunction with their benefit gala, "Dancing Dragon, Roaring Tiger," this evening. The gala celebrates the opening of the museum's Chinese jades and bronzes exhibit.  The auction features four works by the renowned Asian artists Mei-Ling Hom, Sun Xun, Hai Bo and Cai Guo-Quiang. View the works and short biographies of the artists. Bids must be emailed to  [email protected] before midnight tonight.
World Folk Music Map: Smithsonian Folkways Records has contributed folkloric music from around the world to an interactive map posted on the "Preserving Intangible Culture" section on America.gov. Click on any country or region, from Mongolia to Norway to Sierra Leone, and listen to a Folkways music sample from there.