Wednesday Roundup: Protostars, Movie Stars, Maps of Stars and More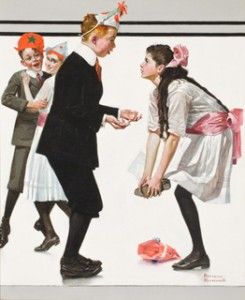 Spielberg and Lucas on Rockwell: In honor of the American Art Museum's current exhibit entitled "Telling Stories: Norman Rockwell from the Collections of George Lucas and Steven Spielberg," filmmaker Laurent Bouzereau interviewed both movie moguls about the 20th century painter and illustrator who captured their imaginations as eager children awaiting his latest illustration in the Saturday Evening Post. Read the interviews on Eye Level to discover Lucas' favorite paintings and why Spielberg considers Rockwell "one of the greatest Americans" since Mark Twain.
Speaking of the Movies: This week at Face to Face you can get up close and personal with one of Hollywood's golden girls, Greta Garbo. Born in Sweden and cast in her first American film after appearing in Vanity Fair magazine, this Oscar-winning star was famous for her roles in Grand Hotel and Anna Karenina.
​The Big 100: Congratulations to the Smithsonian Institution Archives blog, SIRIS, the collaborative blog written by Smithsonian archivists, for recently publishing their 100th blog post! Recently on SIRIS, we have learned all about Native American baseball players and how animals at the National Zoo get relief from the sweltering summer; we've seen sketches of post-World War II gardens and photographs of artists such as Diego Rivera hard at work. To celebrate reaching this blogging milestone, SIRIS has revisited their most popular posts, complete with bloggers' reflections on their own work and readers' comments from the original publication.
Where Stars are Being Born: Embedded within the constellation Perseus is a group of budding stars, still in the earliest stages of their lives. According to the Smithsonian Science Web site, a team of astronomers from the Harvard-Smithsonian Center for Astrophysics have been observing these "protostars" in order to learn more about their gravitational reach when they begin sucking in interstellar matter from their surroundings. This is the first study of it's kind, and scientists hope that it will mark an important step towards proving existing theories on star formation.
It May Be Easy to Miss... But it would certainly be a shame to leave the National Museum of American History without seeing the Albert H. Small Documents Gallery. This lesser-known gallery packs a big historical punch—including the diary of Earl Schaffer on the Appalachian trail and Simeon De Witt's 18th century map of the stars-- as highlighted by the folks over at Oh Say Can You See.