Wednesday Roundup: Missing Cows, Eyebrows and Some Flying Machines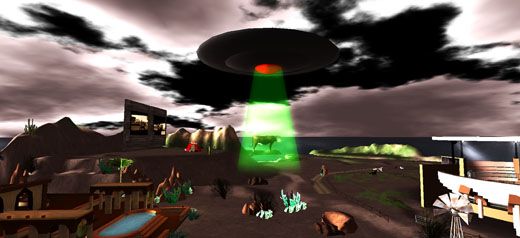 Well folks, it looks like we're missing a cow: Not at the National Zoo—at the Smithsonian Latino Virtual Museum in Second Life. Sometime last Thursday, the museum's virtual cow, Rosita, went missing unexpectedly. But "would would sequester a cow?", the museum asked when it sent out an e-mail blast hoping to find some clues ("What's next, the Olmec heads?" they asked in the same message).  Like actual field scientists, who use a technique called "camera trapping" in real life to help photograph and document species, the employees who run the Latino Virtual Museum use virtual camera trapping to keep track of their own inhabitants—including Rosita, who was last seen in the Northern rainforest habitat. Though it's been almost a week and there's still no sign of Rosita, there are some suspects in the case, says museum employee Melissa Carillo. A picture caught by the museum's trapping camera shows a haunting gray alien face peering into the screen. And a photo sent by a LVM visitor shows poor Rosita beaming up into what looks like an alien spacecraft. Carillo says she has seen aliens around the island lately—"We've been invaded, I think," she says—but they're still trying to find suspects. Until then, Rosita, we're pulling for you!
The man behind the pop: Matthew Reinhart, a paper engineer, has contributed to several books featured in Smithsonian Libraries' upcoming exhibition, Paper Engineering: Fold, Pull, Pop & Turn. The exhibition features more than 50 books from the 15th century onward, all of which have some kind of moving part—think accordion books, peep shows, volvelles and pop-up books. But what exactly does a paper engineer do? On Smithsonian Libraries Blog, Reinhart leads you through one of his recent collaborations, Gods and Heroes, in this video (spoiler: the eyebrow disappearing trick that starts around time mark :43 is pretty cool).
A Drivin' and Flyin' Machine: Our friends at The Daily Planet are right: We do want one of these Distributed Flight Arrays. A-say-what, you ask? Distributed Flight Arrays, built by the Swiss Federal Institute of Technology, are made up of multiple vehicles, each with fixed propellers. Alone, these vehicles aren't very savvy—they can fly, but it's not pretty. But when the vehicles join together (which they do on their own), they can launch and lift together to form a " multi-propeller system capable of coordinated flight." One day, the creators hope, they'll be used to airlift objects. Check out the array in action in this video (be sure to stay tuned until the end, when it flies).