Wednesday Roundup: Flamingos, Planes and XKCD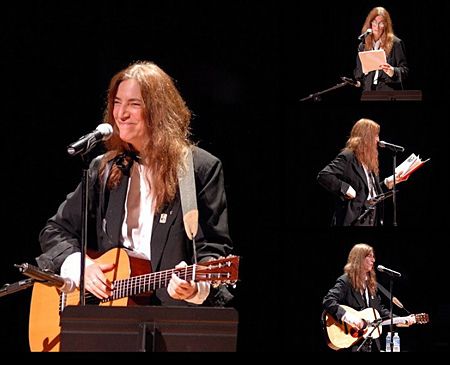 First Aircraft Moved to New Hangar: This week, AirSpace reports that the Curtiss SB2C Helldiver was the first aircraft to move into the Udvar-Hazy Center's new Mary Baker Engen Restoration Hangar. Designed in 1938 and manufactured in 1942, the scout bomber flew in World War II. The Air and Space Museum's plane is one of only a handful still in existence. The plane is scheduled to be restored over the course of the coming year, along with several other aircraft that will soon move into the new hangar. Later in 2011, the mezzanine level of the hangar will open so that visitors can see the aircraft refurbishment in action.
Patti Smith Wins National Book Award: Singer Patti Smith, perhaps best known as the "Godmother of Punk," just won the National Book Award for her memoir, Just Kids, which chronicles her friendship with photographer and artist Robert Mapplethorpe. The Archives of American Art blog has a sound clip of Smith reading at a 2008 benefit, or your can hear her on NPR.
Twain Galore: It seems that in addition to Around the Mall's post honoring Mark Twain's would-be 175th birthday, a couple other blogs around the Smithsonian have paid their own tributes to the 19th century American author. Face to Face has posted some of their favorite Twain quotes as well as Edwin Larson's 1935 portrait of the writer. The Smithsonian Libraries blog has a list of further reading straight from the Smithsonian's collections.
Flamingo-Keeping: Now on the Smithsonian Science homepage, a video from the National Zoo features footage of the Zoo's 61-bird flock of flaming pink Caribbean flamingos. Sara Hallager, flamingo keeper, says the birds are extraordinarily social animals (their squawks can be heard in the background). She discusses how she and the other keepers prevent inbred chicks during mating season by putting different colored bands on the flamingos' feet to keep track of who's who.
National Museum of "Dad-Trolling"? The web comic XKCD has proposed a new Smithsonian museum that specializes in enabling fathers to tell little white lies to their children. Click on various parts of the museum's floorplan and see what waits inside the "Hall of Misunderstood Science," "Regrettable Pranks: An Interactive Experience" or the "Rotunda of Uncomfortable Topics," among others.