Wednesday Roundup: Cute Lion Cub Pics, Kiwis and Hula Hoops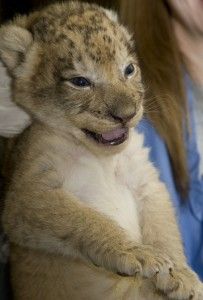 Name That Kiwi—On June 15, the National Zoo hatched a female brown kiwi, the second kiwi born this year. To pay homage to New Zealand, the flightless bird's motherland, they have decided to name the chick after the Maori, the indigenous people of the islands. They have chosen three Maori names, and have opened up an online polling station for the public to decide. Polling will last until noon on October 15, so cast a vote anytime in the next ten days!
Archive Vids—Blogs and museums from around the Smithsonian are already starting to contribute to American Archives Month, which we announced in last week's Wednesday Roundup. The Freer and Sackler Galleries have posted a video tour of their archives, guided by archivist Rachel Cristine Woody. The Bigger Picture blog also has a post this week, "Just What Is An Archives, Anyway?," which is a great starting point.
Make Your Own Hula Hoop—Smithsonian Folkways artist Elizabeth Mitchell's much anticipated children's album, "Sunny Day," drops this week (check out yesterday's post). Folkways has posted a video of Mitchell's daughter, Storey, that describes how she makes her own hula hoops. The video follows her to the hardware store, shows her measuring pipe and her father cutting it (pipe cutters are not for kids) and demonstrates how to create colorful tape designs to finish the hula hoop off. The video's soundtrack previews several of the songs on Mitchell's album, a folky, feel-good collection of tunes.
A New Game at the Postal Museum—The newly developed game, Post-Haste, is now available at the Postal Museum. Located in the Binding the Nation exhibit of transportation objects, the game is played on a "surface table," a Microsoft computer that works just like an oversized iPad. According to a post on Pushing the Envelope this week, the game takes participants back to 1859 to help a family that is trying to send mail across the country. Gamers have to decide how to get the mail safely from one coast to the other so that the mail arrives all in one piece.
This Just In From the National Zoo: The second litter of African lions born this fall was pronounced in good health today after the three lions had their first physical exam. Although it is difficult to tell at only two weeks of age, it appears that two of the cubs are male and one is female. There are tons of precious pictures of these furry little things available on the Zoo's Flickr site.