We Love You Mommie Dearest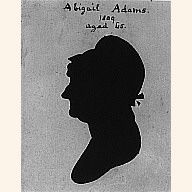 Sunday marks the day when we show our appreciation to the mother (or mother-like entity) who has impacted our lives in a million and one wonderful ways. (We're not in the habit of celebrating familial dysfunction—so keep whatever mommie issues you have tucked away in the closet for a day.) With our minds focused on all things maternal, we here at ATM started thinking: what awesome moms are hanging out at the Smithsonian? Here is a short list of notable women whose presence graces the halls and walls of the museums. Who is your favorite mother in the bunch? Is there one you'd like to have tucking you in at night? Take our poll and let's chat in the comments area below! Here are our four historical mothers competing for your affection:
Abigail Adams: A first-rate First Lady, Adams was a self-educated avid reader with a razor wit. Her husband, John Adams, was away for extended periods of time (forming a nation, after all, isn't the simplest thing in the world to do), which left her at home alone to tend to a farm and raise and educate her four children—including future president John Quincy Adams. A consummate entertainer, patriot and a proponent of women's rights (her entreaties to the continental Congress to "remember the ladies" and provide women more legal rights went unheeded), Abigail Adams is one hardcore mamma.
Marie Curie: The two-time Nobel Prize-winning Mother of Modern Physics was also the only person to mother another Nobel Prize winner (Irene Curie). Together with her husband, Pierre, the Curies isolated polonium and radium and spent their lives studying the properties of these radioactive elements—namely for their therapeutic properties. She was held in high esteem by the scientific community and received numerous awards and accolades. If you have a deep-rooted love of science—or if you happen to enjoy someone with a glowing personality—this may be the hypothetical mother for you.
​
Josephine Baker: Born in America, Baker made her mark in France as an entertainer and a participant in the French Underground during World War II (for which she earned the Croix de Guerre and Legion of Honor service medals) and was a lifelong civil rights activist. She also adopted 12 multi-ethnic children who lived with her in her 15th-century castle. Dubbed "The Rainbow Tribe," it was Baker's way of showing the world that people of all ethnic backgrounds could live together in peace and love. If you're a wild child with a hardcore sense of self, you two would be like two peas in a pod.
Joan Crawford: The Hollywood icon who starred in classic films such as Mildred Pierce and What Ever Happened to Baby Jane? is perhaps best remembered for playing glamorous, fiery characters. And there's just no imitating her style: those drastically arched eyebrows, wide mouth and shoulder pads. Crawford later became the subject of the book Mommie Dearest, a scathing portrait written by her adopted daughter Christina. If you're a glamour puss who hates hanging your $300 clothes on wire hangers, you two will get along swimmingly.