Watch: The World's 3D Experts Converge at the Smithsonian X 3D Conference
At the Smithsonian X 3D Conference, pioneers in 3D scanning and printing technology discuss how digitization will shape the future of the Smithsonian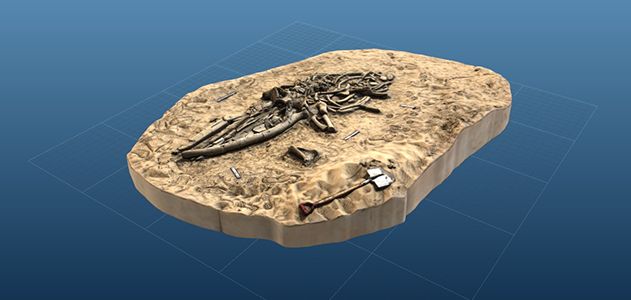 Over the past few years, Adam Metallo, Vince Rossi and other members of the Smithsonian Digitization Program Office have used 3D scanning to solve a century-old murder mystery, preserve a millennia-old fossil whale site threatened by highway construction in Chile and digitally capture every nook and cranny of Abraham Lincoln's face, as represented in a plaster mask made just before his death, among other feats.
Now, they're bringing together dozens of the world's leading experts on 3D scanning and printing at the Smithsonian X 3D Conference. The event, held today and tomorrow at the Freer-Sackler Meyer Auditorium and simulcast above, is a celebration of the digitization work that's occurred so far and a discussion of how such technology will transform the Smithsonian Institution—as well as the state of science, museums and education as a whole—going forward.
One of the event's biggest announcements is the beta release of the Smithsonian X 3D Explorer—a web-based interface that allows users to explore, share and print 3D models of dozens of the Smithsonian's most remarkable artifacts, with more to follow over the coming years. This technology will allow for all sorts of new uses of historical artifacts and scientific specimens: Researchers can share items with colleagues for analysis, teachers can use virtual objects in classroom lessons and members of the public can get unprecedented access to Smithsonian items, many of which aren't on display due to space limitations.
The 3D data for the items shown in the Explorer will also be downloadable in full resolution, allowing anyone with a 3D printer to create replicas of these objects at any scale. As a demonstration, the Digitization Office will be creating a full-scale, 26-foot long 3D print of one of the fossil whales from Chile.
"I think 3D printing technology is a huge game changer, because you can actually replicate the three dimensional physicality of an artifact," says Paul Debevec, a computer graphics pioneer who will be delivering a keynote at the event. "When you're working on proposed reconstructions of what an ancient artifact might have looked like, for instance, you don't have to actually mess with the original artifact—you can scan it without touching it, print out what you've got, and three different historians can come up with three different ideas how of the item may have once looked."
The Digitization office is also pursuing plans to construct a state-of-the-art 3D scanning and printing lab at the Smithsonian Arts and Industries Building on the Mall, currently under renovation. "We're basically going to bring our lab to the public," Vince Rossi says. "Like the fishbowl at the Natural History Museum—where staff work on fossils—we're going to bring our 3D scanning efforts out into the public eye, so people can see what we're working on." Additionally, in the new space, they'll make their high-end 3D scanning and printing equipment available for public use.
The conference will feature panels and keynote addresses from dozens of leaders in 3D technology, including Saul Griffith, the inventor and founder of Otherlab, and Ping Fu, the Chief Strategy Officer of 3D Systems. Together with Rossi, Metallo and other Smithsonian staff, they'll examine how digitization will shape the future of the Smithsonian and grapple with the challenges of effectively digitizing and making publicly available millions of artifacts and specimens.
"For a museum curator, there are scary aspects to letting collections roam digitally on the internet," Debevec says, "but it seems that Smithsonian curators understand the potential of all this, and I think they're going to be on the forefront of making it happen."
Watch the livestream above for coverage of the two-day conference.