This Artwork Recognizes the Sacrifices Made by Native American Soldiers in Vietnam
Taking 'Best in Show' at the Northern Plains Tribal Art Show, the 2002 beadwork tableau is held in the collections of the American Indian Museum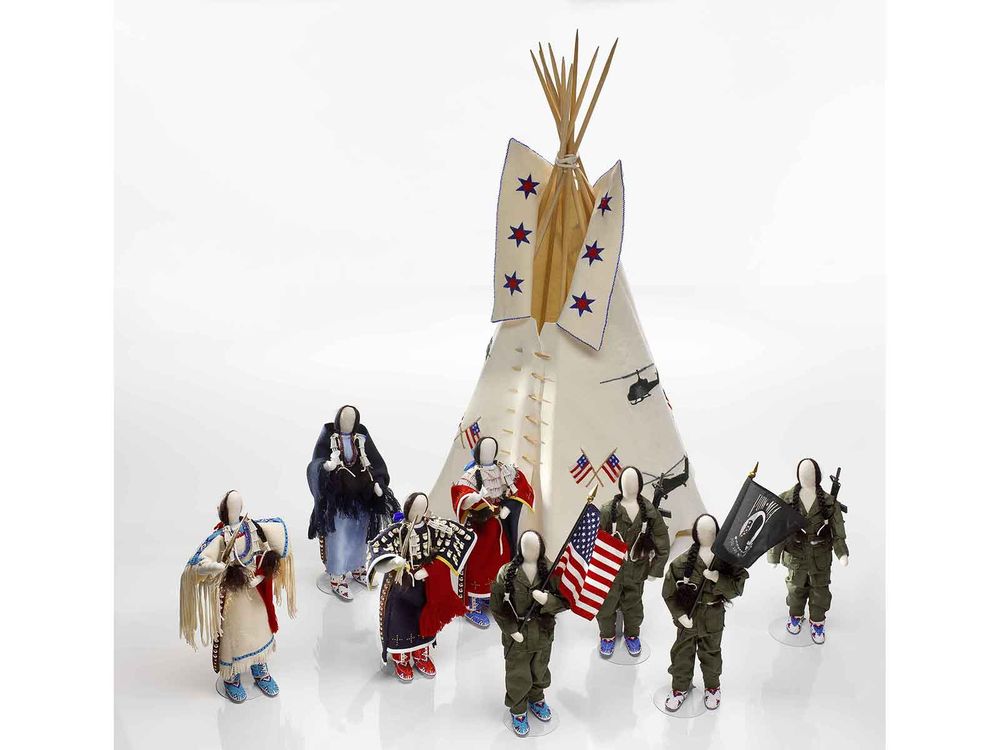 After the Indian Wars ended on the Great Plains and in the Black Hills at the end of the 19th century, tribal nations were dispersed, uprooted or confined to reservations, sovereign in name but severed from tradition. In that long twilight, the battle feats of the Oglala, Apache, Shoshone, Cheyenne, Crow and scores of other tribes were memorialized in their lore, as well as in what are known as honoring songs. And in art.
The Plains Indians painted memorials to battles on their tepees, some of which were recorded in photographs made by the likes of Frank Fiske and Edward Curtis. But as nomadic life gave way to settlements, and remembrances and memorials dwindled, Indians donned uniforms as soldiers in America's wars. Though the Navajo code talkers of World War II may be the most storied, Native Americans have served with distinction in all of America's overseas conflicts.
As a child in the 1950s, artist Emil Her Many Horses, today a curator at the Smithsonian's National Museum of the American Indian, saw a photograph of a Plains Indian tepee, its flaps painted to resemble an American flag. "For me, it depicted this new role of Indian warriors in the military," he recalls. "It inspired me to do something more contemporary, dedicated to the Native American veterans of the Vietnam War."
In 2001, Her Many Horses, an artist trained both in traditional beadwork and in doll-making, began the creation of a commemorative tableau featuring miniature figures of Vietnam-era veterans and the tribal women who welcomed them home with ceremonies. Even today, these rituals are not much changed from the days when warriors returned from the Little Big Horn.
Her Many Horses, a member of the Oglala Lakota Sioux of the Pine Ridge Reservation in South Dakota, began attending tribal powwows as a boy. He admired the hand-adorned outfits worn by tribal dancers, but since he couldn't afford to buy these traditional garments, he decided to make his own. As a teenager, he studied on South Dakota's Rosebud Sioux Reservation with renowned bead artist Alice Fish, as well as with other women whose work she influenced. From them, he learned the geometric patterns and colors that typify the distinctive style of Rosebud artists. "Fortunately, these ladies tolerated me," he says, smiling.
It was around this time, in the mid-1960s, that Indian soldiers began returning from tours of duty in Vietnam to be met by honoring ceremonies. Charles Pablo, a veteran who lived up to his Indian name, Takuni Kokipe Sni (Afraid of Nothing), was Her Many Horses' uncle; Pablo completed three tours in Vietnam. Several decades later, in 2001, the artist drew on memories of Pablo, who died in 1994, when he created a tableau using animal hide and glass beads that included eight 11-inch-tall dolls and a 30-inch-tall tepee decorated with miniature helicopters. Her Many Horses incorporated the aircraft because, he says, "I've been told that Vietnam was called the helicopter war."
The artist showed the work for the first time the following year, at the Northern Plains Tribal Arts Show in Sioux Falls, South Dakota. Though it won Best of Show, the reactions that meant the most to him, he says, were those he witnessed from visitors to the exhibition. One man returned repeatedly to look at the dolls. He finally revealed that he was a Korean War veteran, allowing that to stand as sufficient reason for his intense contemplation of the work.
Later that year, Her Many Horses' colleagues at the American Indian Museum suggested that the tableau should be included in the permanent collection as a contemporary example of an art form that dates back hundreds of years. "I didn't go to Vietnam," he says because he was too young at the time. "To have a scene of valor painted on the side of your tepee, you had to have served and done battle." With his tableau, the artist has created an enduring variation on the traditional honoring ceremony.