USA Wins! Celebrate As If You Were in South Africa!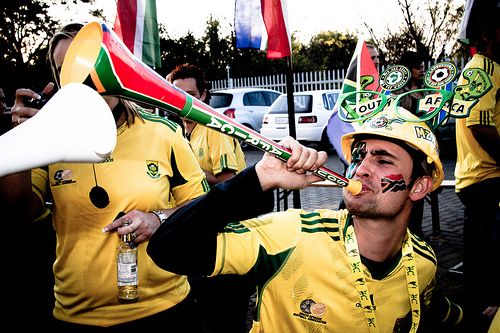 Soccer and music blend together to create an atmosphere that is unique only to the beautiful game. For 90 minutes, players are serenaded by supporters who don't ask for tips in return, just that magical goal that sends them into hysteria.
As you read this, USA supporters in South Africa are almost certainly singing into the night celebrating today's dramatic, stoppage-time win over Algeria that secures the U.S. Men's National Team a place in the knockout stages of the FIFA 2010 World Cup for the first time since 2002.
Music is how fans communicate with their team and inspire them to victory. They live and die with every pass and their emotions fill every song and chant.  Whether it be drums in South America, the vuvuzela in South Africa or good old fashioned singing in England, music can be heard in stadiums around the world.
Music and soccer are not always a perfect match as Shakira demonstrated with her official FIFA 2010 World Cup song, "Waka Waka - Time for Africa." Criticism for the song was immediate as South Africans demanded to know why a Colombian singer was chosen to write and perform a song that represents their continent and features African elements throughout and yet, not performed by an African.
What has become synonymous with Africa at this year's World Cup and has provided the background track to the world's biggest sporting event is the vuvuzela, the plastic horn South African fans use to cheer on their beloved Bafana Bafana (The Boys, The Boys). Noise levels inside stadiums have reached deafening levels, broadcasters are filtering out the noise as much as possible; even the players have complained.  (This editor's dog hides under the sofa.)
But happily, the buzzing drone of the vuvuzela is not all that South Africa has to offer when it comes to music. To celebrate, we suggest you check out "This Land is Mine: South African Freedom Songs" from Smithsonian Folkways, which features songs that you can sing while sitting on your couch watching the next World Cup match.
Your neighbors will thank you for not breaking out your vuvuzela.