U.S. Postal Service Honors American Designers
Twelve pioneering industrial designers, many of whom are represented in the Cooper-Hewitt's collection, are featured on a new set of stamps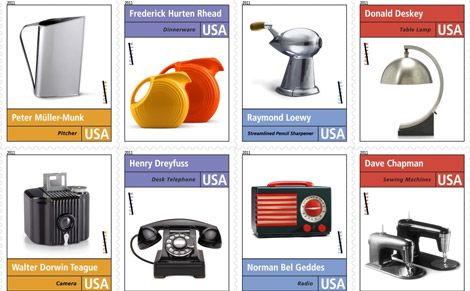 Last week, the Cooper-Hewitt, National Design Museum hosted a dedication ceremony for the U.S. Postal Service's new set of stamps honoring 12 pioneers in American industrial design.
Each stamp features a sleek product, be it a camera, flatware or typewriter, on a white backdrop, and the name of the design and its designer. The designers chosen include Peter Müller-Munk, Frederick Hurten Rhead, Raymond Loewy, Donald Deskey, Walter Dorwin Teague, Henry Dreyfuss, Norman Bel Geddes, Dave Chapman, Greta von Nessen, Eliot Noyes, Russel Wright and Gilbert Rohde.
"They were very important in getting the profession of industrial design off of the ground," says Gail Davidson, head curator of Drawings, Prints and Graphic Design at the Cooper-Hewitt, National Design Museum. "A number of these people were immigrants to the United States. These were men who were in the right place at the right time. Many of them were artists. They could not make a career in the fine arts, and they turned to industrial design as a way of making a living. Many of them entered the profession through set design and costume design. People like Norman Bel Geddes and Henry Dreyfuss would be included in that group. Other people entered the profession through advertising or window display. Raymond Loewy is an example of that group and also Donald Deskey."
The field of industrial design emerged in the United States in the 1920s and '30s, when manufacturers turned to designers to create products with a modern look. What resulted were products that were simple, functional and more aesthetically clean than their ornate predecessors. After World War II, products were mass produced and designers experimented with new materials, such as plastic, vinyl, chrome, aluminum and plywood, which made the products more reasonably priced. "Industry turned to designers directly as a way of distinguishing their products from those of another company," says Davidson.
The 12 designers whose work is featured on the stamps heavily influenced the look of everyday life in the 20th century. Some of the more familiar designs on the stamps are boldly colored Fiesta dinnerware from 1936 by Frederick Hurten Rhead and the 1961 IBM "Selectric" typewriter by Eliot Noyes. Davidson hopes that the stamps will make people aware of design and how it impacts their lives.
If you like the stamps, there are related artifacts within the Cooper-Hewitt's collection. For instance, the museum has a pitcher and other examples of Rhead's Fiesta line; cameras designed by Walter Dorwin Teague, who collaborated with the Eastman Kodak Company; dinnerware designed by Raymond Loewy for the 1976 Concorde airliner; drawings and examples of flatware designed by Russel Wright; and drawings for John Deere tractors and models of Bell telephones by Henry Dreyfuss. The Cooper-Hewitt also holds the archives of both Henry Dreyfuss and Donald Deskey.
The Pioneers of American Industrial Design stamps are on sale now at local post offices and online at usps.com.