UPDATED: Iconic Obama Portrait at National Portrait Gallery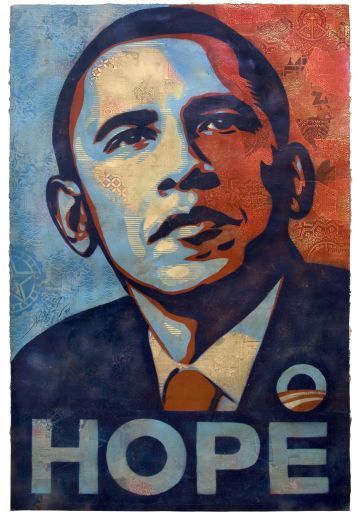 There's no doubt that graphic designer Shepard Fairey's red, white and blue collage of President-elect Barack Obama called "Hope" has gone viral. The artist, known for his guerilla street artist style, printed posters and stickers of the portrait, and they crept up on the sides of city buildings and car bumpers. He put a downloadable version of the image on the web, and others snagged it to for t-shirts and fliers. People even made spoofs based on it, dubbing the faces of John McCain and Sarah Palin and words other than "Hope" into it. Not to mention, Time magazine had Fairey create a similar portrait for its Person of the Year 2008 cover in December.
At first, Fairey was a bit hesitant to show his support for Obama through his art. He does have an arrest record for his graffiti work, so he didn't want to bring any negative attention to the campaign. But Fairey told the Washington Post that he got the green light from Obama's people. The propaganda-style image spread and became iconic, maybe even the most recognizable of the Obama campaign. And its success reportedly inspired Obama to write Fairey a personal letter of thanks. According to the Washington Post, the President-elect wrote, "I would like to thank you for using your talent in support of my campaign. The political messages involved in your work have encouraged Americans to believe they can help change the status quo. Your images have a profound effect on people, whether seen in a gallery or on a stop sign."
​
Now, it seems that the Smithsonian's National Portrait Gallery should be the one writing a thank you. Washington, D.C. art collectors Heather and Tony Podesta have donated Fairey's original 60 by 44 inch collage to the museum's permanent collection, and as of on January 17 Inauguration Day, January 20, it will be hanging in the gallery's first-floor "New Arrivals" section. "Hope" is the second Obama portrait to grace the museum's walls. The first, by photographer Martin Schoeller, is part of the National Portrait Gallery's "Portraiture Now" exhibition.