UPDATED: Fire in the Natural History Museum's Mechanical Building Under Control; Museum Is Open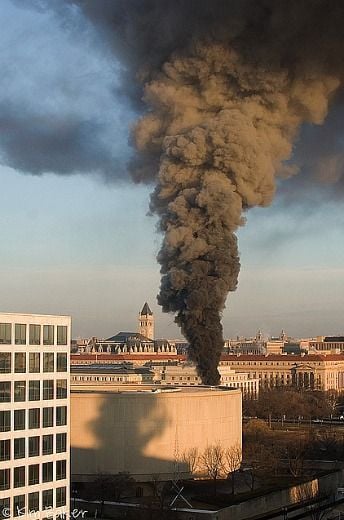 Early this morning, a fire broke out just off the Mall in the National Museum of Natural History's mechanical building, where the museum's heating and air conditioning units are contained. The frightening-looking mushroom cloud emanating from the cooling tower appeared more hazardous than it actually was. There were no reported injuries. And damages will immediately be assessed.
Smithsonian spokesperson Linda St. Thomas told TBD that the affected building was "a small building in the parking lot." She assured museum-goers that it was not the main building itself. "There was some construction work in the mechanical building this morning," she said.
Update: The opening of the museum is delayed. Officials are awaiting an all-clear report from the fire department.
Update: 10:33: The museum is now open to the public.
Update: 11:30: The Johnson IMAX theater in the museum is temporarily closed.
Update: 11:44: Officials say that the fire was started by a contract welding worker in the mechanical building located in a parking lot on the East side of the museum. The fire caused a large cloud of smoke in the area around 10th St NW and Constitution Ave NW.  There were no reported injuries or damage to the Natural History Museum. The Johnson IMAX Theater is now OPEN. First show will be "Grand Canyon Adventure 3D" at 12:20. www.si.edu/imax.