Up Where She Belongs—An Interview With Buffy Sainte-Marie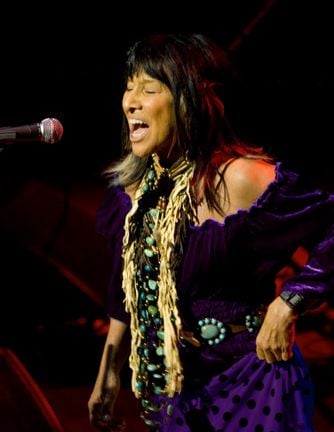 Celebrate Native contributions to American contemporary and mainstream music in the new exhibition, "Up Where We Belong: Native Musicians in Popular Culture," which opened yesterday, July 1, at the National Museum of the American Indian. A live performance of bluesy rock by Derek Miller (Mohawk) kicks things off today, Friday, July 2, at noon in the plaza just outside the museum.
Artists spotlighted in the exhibition include electric guitar god Jimi Hendrix (Cherokee heritage), rock 'n' roll guitarist Link Wray (Shawnee), Robbie Robertson (Cherokee) and Academy Award-winning folk singer Buffy Sainte-Marie (Plains Cree).
Singer/songwriter and educator Buffy Sainte-Marie came up during the sixties, when folk and protest music was in the air. With an acoustic guitar in hand and a vocal style steeped in vibrato, she wasn't afraid to speak her mind, writing and singing songs with a messsage, like "Universal Soldier," "Mister Can't You See," and "Now That the Buffalo's Gone." A gifted songwriter, Sainte-Marie has been covered by an impressively diverse range of artists, including Elvis Presley, Barbra Streisand, Neil Diamond, Janis Joplin and Cher.
In 1976, Sainte-Marie joined the cast of Sesame Street for a five-year run, and in 1996, the singer established the Cradleboard Teaching Project, an educational program designed to "turn on the lights" in public schools about Native American culture.
I caught up with the multi-talented Buffy Sainte-Marie last week via e-mail and got her thoughts on education, Native American culture, and Lady Gaga.
Why is your Cradleboard Teaching Project so essential to Native American youth?
Cradleboard teaches core subjects—science, geography, government, history and music—through Native American cultural perspectives. Our curriculum matches national content standards for elementary, middle and high school grades, so it's not "an extra." Teachers can actually use it. The state of school curriculum in the U.S. and Canada is usually deplorable. It's inaccurate and boring, it supposes that Europeans "invented" science and government (etc.), and it's not as engaging as what we offer through the use of interactive multimedia multi-sensory learning tools. A lot of Canadian universities are now using it, and I still teach college teachers how to create new curriculum with current technology tools. It's simply more engaging.
We are determined to help not just Native American youth as others are keen to learn too; until now teachers have not had the teaching tools, the materials and content with which to teach about Native America. Native America was and is very cool and we put students, teachers, tribes and communities into the driver's seat of delivering their own Native self-identity to others who want to know.
Your songs have been covered by a wide range of artists. How does it feel to hear other people perform works you've written?
It's a thrill and an honor to know that another artist likes the songs, learns them, records them and performs them night after night to their own audiences, especially those in grassroots Indian country.
Elvis Presley is one thing, but Red Bull? Now, we're talking. In 1975 when I first recorded "Starwalker," powwow rock just hadn't been done. So now it's great to see so many younger Native American artists finally incorporating traditional social songs into additional genres and bringing the sound of Native America into the world beyond the rez, it's very rewarding.
You've always been an early-adapter of new technologies during your recording career. Do you think songwriting and technique have become de-emphasized due to an over-reliance on technology?
Only by people trying to make a buck with minimum talent, but that type is "the fleas, not the dog." Whether I record into a tape recorder or a computer, it still has to be a great original song, sung and played true to the heart. A guitar does not replace a piano or the human voice; watercolors do not replace oils; and computers do not replace artists. Technologies are just additional tools in the hands of great (or not so great) artists. I love it all, but original art is always rare.
Are there any current artists that you're digging, and why? It's OK if you say Lady Gaga . . .
I do like Lady Gaga; I love theater, costumes, lighting and production, and her multimedia treatment of a song is valid and wonderful. Besides she's really talented as a singer, songwriter, dancer and designer, so go for it.
In Canada I particularly like Lucie Idlout (Inuit), Derek Miller (Mohawk) and singer/songwriter Serena Ryder. I'm also crazy about my own band mates: Jesse Green on guitars (Lakota/Ojibwe), Mike Bruyere on drums (Ojibwe), and our bass player, Donny Ducharme (Saulteaux/Meti) and Darryl Menow (Cree). During our recent tour of Europe they inspired me concert after concert and I'm so proud to present them at all the awards shows we've been doing. We sort of cleaned up on all the Canadian (Indian and non-Indian) music awards this year, so I got to brag about them a lot.
My own playlists include not only lots of grassroots powwow and round dance songs but also ZZ Top, Miles Davis, lots of flamenco, reggae and electronic music. I like uniqueness and variety.
I've read that you'll play shows on small reservations in the United States. What kind of reactions do you get from the audience in such an intimate setting?
We sure play a lot of remote reserves in Canada, and I hope we can do the same in the U.S. with our two new releases: Running for the Drum (all new originals with a bio-documentary DVD included called Buffy Sainte-Marie: A Multimedia Life); and the resurrected mid-1970s album set called Pathfinder: Buried Treasures on Appleseed Records. Naturally audiences at reservation concerts are a lot more clued in to Native issues and traditional music, so there's always that extra thrill of knowing the audience "gets it."
What's your next project?
​When we're done with this world tour I want to move into Phase II of the Cradleboard Teaching Project and create lots more interactive multimedia Native American school curriculum. It's just as much fun as creating music and paintings and has brought so much joy and learning to students and teachers everywhere. Incredible feedback. At the moment we are on hiatus until Running for the Drum has run its course, then I put on my teacher hat again and get animated.
"Up Where We Belong: Native Americans in Popular Culture" runs from July 1, 2010 through January 2, 2011, at the National Museum of the American Indian.