Two Smithsonian Scientists Receive Presidential Award
An astrophysicist and a conservation biologist each receive one of the highest honors in science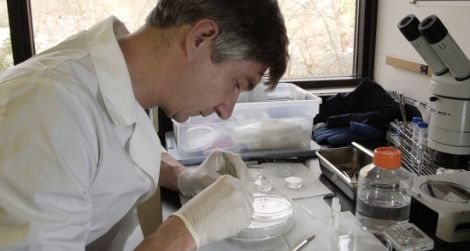 Earlier this week, President Obama announced the recipients of the annual Presidential Early Career Award for Scientists and Engineers. Among those honored were two scientists who have conducted innovative research at the Smithsonian Institution: Dr. Justin Kasper, an astrophysicist at the Harvard-Smithsonian Center for Astrophysics, and Dr. Pierre Comizzoli, a biologist at the Smithsonian Conservation Biology Institute (SCBI).
The award is the highest honor the government confers on scientists in the early stages of their careers, and is given to researchers across a wide range of disciplines.
"I'm very honored to receive this," says Comizzoli, who was nominated through his work with the National Institutes of Health. Throughout his career, he has been involved in researching reproductive biology within a variety of species, including domestic cats, cheetahs, deer and frogs. His current research seeks to find new ways to preserve eggs and sperm without freezing.
"The project I'm working on now is exploring drying techniques, so you can keep your samples at an ambient room temperature, instead of storing them in liquid nitrogen," he says. "It's way more flexible, and way less expensive. And in some parts of the world, liquid nitrogen is just not available."
Comizzoli's work is mainly intended to preserve animal sperm and eggs as a tool for species conservation. "It's really important to preserve the fertility of any individuals from a rare population," he says. "If the genomes of those animals are still available to be mixed in the current population, you can preserve the genetic diversity."
But many are excited about the potential of this research to assist in human fertility, as well. "Fertility preservation is used a lot in human reproductive medicine, for people who need to preserve their fertility before any medical treatments that are detrimental to the reproductive tissue," Comizzoli says. "We have this fantastic opportunity at the SCBI of working with many different species and generating this huge database of comparative data, that is then extremely useful for human reproductive medicine."
Dr. Kasper studies the transfer of energy in astrophysical objects, including the solar corona and solar wind. He received the award for his current work on the Solar Probe Plus, which will be humankind's first mission to send a probe to the sun's outer atmosphere.
Kasper's research has helped with the design of SWEAP (Solar Wind Electrons Alphas and Protons) an instrument that will provide scientists with information on how the solar corona and upper atmosphere are heated. "I am honored to have received this recognition and encouragement to pursue the mysteries of our sun," Kasper said in a press release. "By flying a spacecraft through the upper atmosphere of the sun, we will expose the fundamental physics responsible for the million-degree corona and help understand and forecast space weather."