Trunk Rock: Shanthi the Elephant Jams on the Harmonica
Listen to the latest stylings of Shanthi, the Dylan of elephants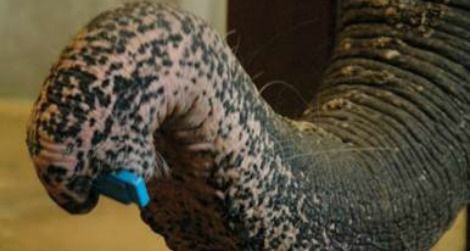 It wasn't hard for the elephant keepers at the National Zoo to notice that Shanthi, a 36-year-old Asian elephant, had a (rather large) musical ear.
"She likes to tap on things with the tip of her trunk. She likes to flap her ears against things that make noise. She likes to rub her leg against brushes and repeat that noise," said elephant keeper Debbie Flinkman.
So the keepers started giving Shanthi instruments she could blow with her trunk, like a harmonica and a horn. Soon enough, of her own accord, Shanthi started making up her own songs, figuring out how to manipulate the instruments with her trunk to make different sounds. Listen to some of her latest capriccios in the video above.
Shanthi is the mother of the Zoo's 10-year-old calf, Kandula. Asian elephants are endangered in the wild, where 30,000 to 50,000 still live in the forests of south and southeast Asia. They are known to be very intelligent, and in captivity, artistically-inclined elephants sometimes pick up a hobby. For instance, the National Elephant Institute in Thailand teaches interested elephants how to hold paintbrushes so they can paint canvases.
Watch an elephant demonstration, which sometimes includes Shanthi's musical skills, at 11 a.m. most days at the Zoo's Elephant Trails.
This post was updated to clarify that this elephant is at the National Zoo in Washington, D.C.