Transforming War and Trauma Experiences Through the Arts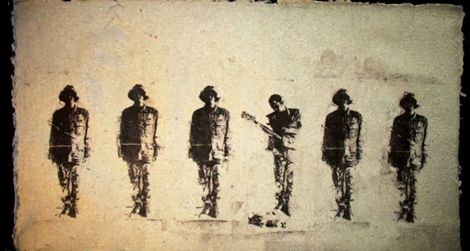 Young veterans returning from the prolonged and grueling wars in Iraq and Afghanistan are finding new ways to cope with post-military life and they're doing it through art. As a part of the Arts, Military + Healing: A Collaborative Initiative (AMH), veterans and civilians at the forefront of this movement are joining with national cultural institutions, art schools and the military community to create something new out of the destruction of war—catharsis through art therapy.
Starting Sunday, this week-long event offers five free workshops that will give military members of the AMH and their families a chance to work with art therapists, veteran and established artists. The program stretches across seven locations including the Library of Congress, National Air and Space Museum, and George Mason University.  Events include exhibitions, a film screening of Heather Courtney's acclaimed documentary Where Soldiers Come From and a  performance by modern dance company, DancEthos, that demonstrates the healing benefits of the arts.
Shannon Maxwell, co-founder of the SEMPERMAX Support Fund, will make opening remarks to highlight the importance of arts as therapy. Her husband, Lt. Col. Tim Maxwell, USMC (retired), received a traumatic brain injury from a mortar attack in Iraq. The ceremony will be held at the Fly Marines! The Centennial of Marine Corps Aviation: 1912-2012 exhibition at the National Air and Space Museum, and will also include a presentation on the history of arts in the military.
A collection of veteran-made artwork will be on display at the Corcoran Gallery featuring works from the Combat Paper Project, a cathartic program that allows veterans to make paper-bound books of poetry and paintings from their shredded uniforms. Their motto "Make Paper not War," rings true in the veteran-made artwork created from the destruction of their military garb.  Award-winning New York Times photographer, Joao Silva, will also share his experiences working in combat zones. He has experienced the danger first-hand having survived a land mine explosion covering the war in Afghanistan.
Arts, Military + Healing  will take place May 13-18. Free. For more information on the events, the mission, the participants and for a complete schedule visit www.artsandmilitary.org for specific times.