Todd Duncan: We Love You, Porgy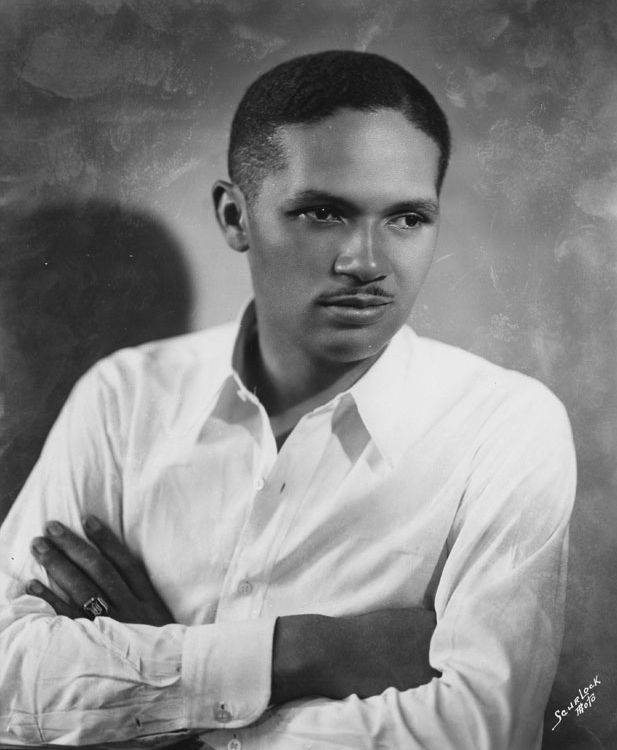 Todd Duncan (1903-1998) was a classically trained baritone who performed more than 2,000 recitals in 51 countries over the course of his lifetime, in addition to teaching music at Howard University here in DC. However, he will perhaps always be remembered for originating the role of Porgy in the great American opera, Porgy and Bess. This weekend, the National Portrait Gallery is paying homage to Todd Duncan and his contributions to American music through a lecture and a concert presentation of Porgy and Bess.
When he was approached by George Gershwin about performing the role, Duncan had his reservations. As a classically trained musician, he initially felt that Gershwin was too "tin pan alley" for his tastes. When offered the lead role of Porgy, he was hesitant. "Well, I don't know Mr. Gershwin," Duncan remembers saying, "I have to hear your music first." As Gershwin began to play his score, Duncan was nonplussed, but once he segued into "Summertime," the baritone was convinced that he had to play the part. With precious few recordings left behind—he was offered a contract with RCA that was later denied to him due to his ethnicity—Porgy endures as his signature work.
"A Portrait of Porgy" provides a wonderful overview of Duncan's life and pays homage to his legacy by way of an abbreviated presentation of Gershwin's Porgy and Bess. All the standout songs are represented—"My Man's Gone Now," "I Got Plenty o' Nuttin," "Bess, You Is My Woman Now," "It Ain't Necessarily So,"—strung together by Jewell Robinson's narration of the story. In lieu of an orchestra, Michael Rice is at the piano, and the pared-down presentation of the score allows the jazz elements of the piece to shine through. Vocally, the artists are all absolutely wonderful, especially Alvy Powell—who has performed the role over 1,000 times, including Lincoln Center's 2002 production of the opera—and Janice Chandler Eteme, both of whom studied under Duncan. Personally, I couldn't think of a nicer way to honor someone's memory. I can't encourage you enough to catch this presentation. When was the last time you were able to attend the opera for free? Uh huh, thought so. "A Portrait of Porgy" will be performed Friday and Saturday evening at the National Portrait Gallery at 7:00. The event is free, but if you would like to make a reservation, call (202) 633-8520.
For listening recommendations and more information about Porgy and Bess, there's more after the jump.
For Todd Duncan, Porgy was not only demanding vocally—before the premiere, one of the character's arias, "The Buzzard Song," was cut in order to spare his voice—but physically as well. Playing a cripple, he spent the three-hour course of the opera shuffling about the stage on his knees. (When William Warfield took on the role during the 1952 production that toured internationally, he recalls the advice Duncan gave him: "He told me, 'Bill, protect your knees. It can be a real problem on a long tour.' He give me some valuable hints as to how to get around the problem because he had sung the part using no padding and had damaged his knees. For me, they built in pads in my pants, and I also covered my knees with soft cotton, which I strapped on with tape." It was also during this tour that Warfield met Leontyne Price, who played Bess. They later married.)
Porgy and Bess—after being severely trimmed in order to reduce the running time—debuted at the Alvin Theater in New York on October 10, 1935 where it met lukewarm reviews and ran for 124 performances. A 1936 production, also starring Duncan, toured the East Coast, ending with a run at Washington DC's National Theater. At the time, the National was segregated and Duncan led a strike against the theater, refusing to perform unless the venue changed their policy. After much debate, the National finally relented, resulting in its first integrated audiences. However, it would take years before Porgy and Bess would come into its own and be appreciated as an American masterwork. (The first production to restore the material cut by Gershwin for the New York premiere was done by the Houston Grand Opera in 1976.)
If you can't make it out to A Portrait of Porgy this weekend, go to NPR's website where they have a webcast of the Washington Opera's production of Porgy and Bess. Also available through NPR is an archival interview done with Todd Duncan. It's absolutely wonderful to hear his reminisces, not to mention the vintage recordings of his performance of the role.
Not an opera fan? If possible, try to see the 1959 Hollywood version of Porgy and Bess starring Sidney Poitier and Dorothy Dandridge, which is structured more like a musical. It sometimes resurfaces at film festivals or special engagement screenings and bits of it have showed up on YouTube. (It has officially been out of circulation since 1974—whether this is entirely due to the Gershwin estate's notorious distaste for the film or if it has become embroiled in rights issues is up to speculation.) But it's through the film—and the soundtrack recording, which I recommend if you still have a functioning turntable—that got me hooked on Porgy. If you're a purist, I'm also a big fan of Trevor Nunn's 1988 Glyndebourne Festival recording. This production was also recorded for television and is the only presentation of Porgy and Bess currently available on DVD.
Finally, for a comprehensive telling of how Porgy came about, go to your local library and find Hollis Alpert's book The Life and Times of Porgy and Bess: The Story of an American Classic.