Today in History: Jackie Cochran Breaks the Sound Barrier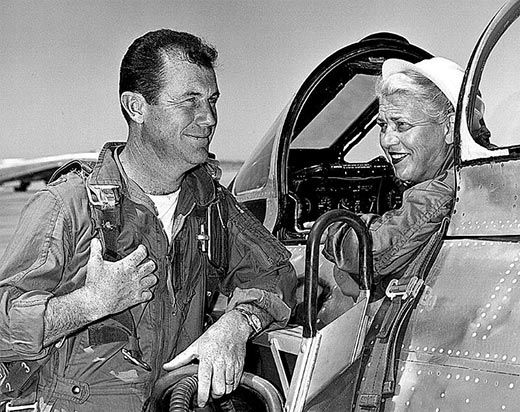 Pilot Jackie Cochran, who became the first woman to break the sound barrier 57 years ago today—owes some of her breakthrough success in the sky to an ironic source: cosmetics.
The Florida native had made a name for herself in New York City, putting charm and good looks to the task of landing a position at the famous Saks Fifth Avenue salon. There, she met wealthy businessman Floyd Bostwick Odlum (the pair would marry in 1936.) Odlum offered to help her launch a makeup line, but also suggested she try flying.
Though she was approaching 30 when she began to fly, she quickly made up for lost time, earning her license in 1932, after only three weeks of lessons.
Cochran went on to become not only one of the country's most skilled female pilots, but one of the most deft and agile pilots of all time. Today, she still holds more speed and distance record than any pilot—male or female; dead or alive. (Even after not flying for 30 years; she died in 1980.)
On May 18, 1953, Cochran took off from Rogers Dry Lake, California, accompanied by Air Force Captain Charles "Chuck" Yeager, who six years earlier had been the first man to break the sound barrier. In an F-86 Sabre plane, borrowed from the Royal Canadian Air Force, Cochran surpassed Mach 1; over the course of her flight, she averaged speeds of 652.337 miles per hour.
Celebrate Cochran's achievements  -- which, to name a few, include being the first woman to reach Mach 2, the first woman to take off from an aircraft carrier, the first woman to make a blind instrument landing, and the first woman to be inducted into the Aviation Hall of Fame -- at the Air and Space Museum, where Cochran's Women Airforce Service Pilot badge is on display, or explore her other artifacts in the museum's collection.
​Read about more famous women aviators in our photo essay featuring Cochran, Amelia Earhart and others.