To Really Appreciate Louis Armstrong's Trumpet, You Gotta Play it. Just Ask Wynton Marsalis
It's not always the white-glove treatment; some artifacts live on through performance
One of the standout musical artifacts to go on view at the National Museum of African American History and Culture when it opens this fall is the elegant 70-year-old brass trumpet from Louis Armstrong.
One of dozens he played through his five decades of performing, it came to life when Armstrong played it. "Satchmo," as he was known, was not only one of the most popular musicians of the 20th century, he also helped steer jazz to a new direction—one of inventive soloing, done with a heart that connected to millions.
Blending popular song with the blues and an unerring assurance and tone, Armstrong is credited with helping shape the distinctly American art form. 
"He is the beginning and end of music in America," Bing Crosby once said. 
"You can't play anything on a horn that Louis hasn't played," Miles Davis said. 
Writer Nat Hentoff has said: "I have never known a distinctive jazz music who was not dedicated to his instrument, but none made his horn the constant center of his being as intensely as Louis did."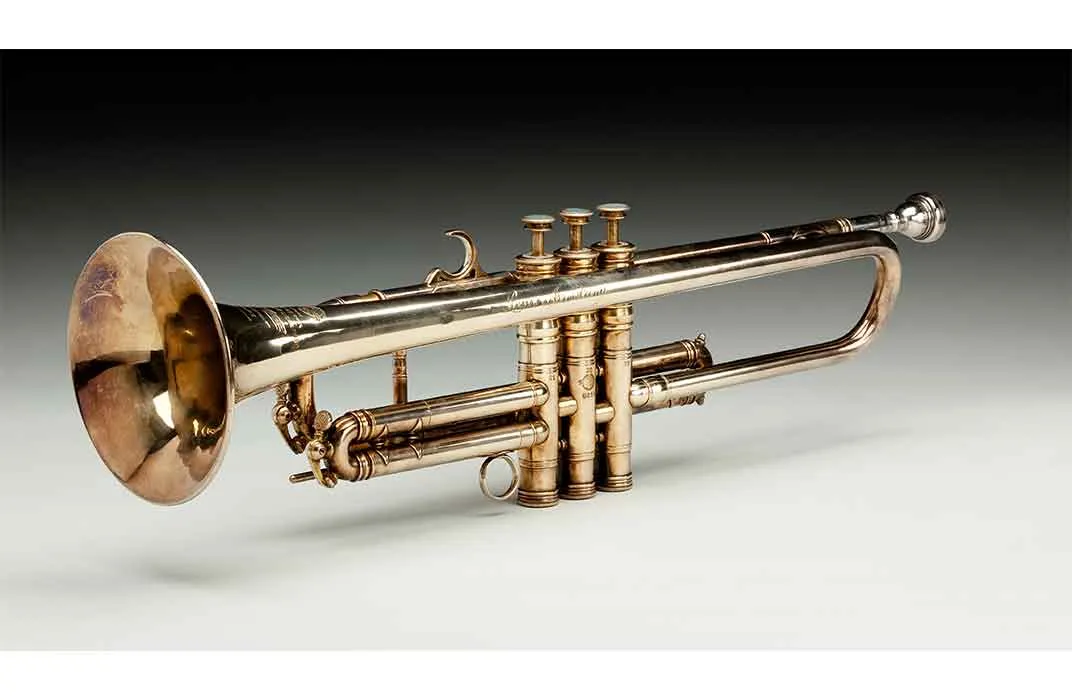 As Armstrong put it: "When I pick up that horn, that's all. The world's behind me, and I don't feel no different about that horn now than I did when I was playing in New Orleans. That's my living and my life. I love them notes. That's why I try to make them right."
Armstrong was born in New Orleans August 4, 1901—not July 4, 1900, as he often boasted—in a poor part of the city, the grandson of slaves. He tooted a tin horn working on a junk wagon, before earning enough money to play his first horn. "I kept that horn for a long time. I played it all through the days," he recalled in a memoir. 
When he shot his stepfather's pistol on New Year's Eve on a dare, Armstrong, at 13, was arrested and sent to a reform school where he learned some horn skills from a teacher there. While still in his teens, he got into the band of his hero, Joe "King" Oliver, transplanting him to Chicago and then New York, where he had become a sensation in 1925, changing jazz from its syncopation to true sophistication. "No one knew what swing was till Louis came along," trumpeter Max Kaminsky said.
Armstrong's success continued through the century, until he became one of the first African-Americans to host his own national radio show, and was a frequent guest on TV and in musicals, one of which, Hello Dolly gave him a No. 1 hit that knocked the Beatles out of the top spot for the first time in three months, and won the Grammy for song of the year. 
And though Armstrong funded Civil Rights movement efforts and supported it, some activists saw him as being part of the old guard.
"I grew up knowing who he was," Wynton Marsalis says. "I didn't necessarily like his music, because I grew up in the Civil Rights era and the post-Civil Rights era and we felt like he was an Uncle Tom, always smiling with a handkerchief. His image was not something that was popular at that time. So I didn't discover his real genius until I was 18."
Marsalis was part of a storied New Orleans family led by teacher and pianist Ellis Marsalis and at age 14 played traditional jazz with the New Orleans Philharmonic, becoming at age 17, the youngest musician admitted to Tanglewood's Berkshire Music Center.
Still, he wasn't a fan of Armstrong until his father sent him a tape. "He had been telling me for years, 'Man, you need to learn about Pops.'" Marsalis says. 
So he listened.
"'Jubilee' was the name of the song. I tried to learn that song one night when I was 18 and I couldn't make it through the song," he says. 
"We thought back then that if you played fast and did a lot of fancy things like Freddie Hubbard played, that you were a good trumpet player. Louis Armstrong played more straight notes. It wasn't considered difficult." 
"But when I tried to learn one of his solos, just the endurance it took, let alone the type of soul and feeling he was playing with, it was revelatory for me. And then I began to study his music."
The previously resistant Marsalis spent the rest of his teens listening to the early records. "Before that time, being from New Orleans, we didn't follow New Orleans jazz. We grew up with it around us, but we were largely ignorant with what it meant culturally," Marsalis says. "Even with a father that was fairly well informed, I managed to remain ignorant."
That all changed when he heard and studied the music. "I love him," Marsalis says of Armstrong. "And being a trumpet player, it was not hard to study the greatest trumpet player ever.
"If you love jazz, you have to love him," he says. "It's like a classical musician talking about Bach and Beethoven's music. They're the foundation of a lot of good music, so it's only natural that a jazz musician would be interested in the foundation of his style."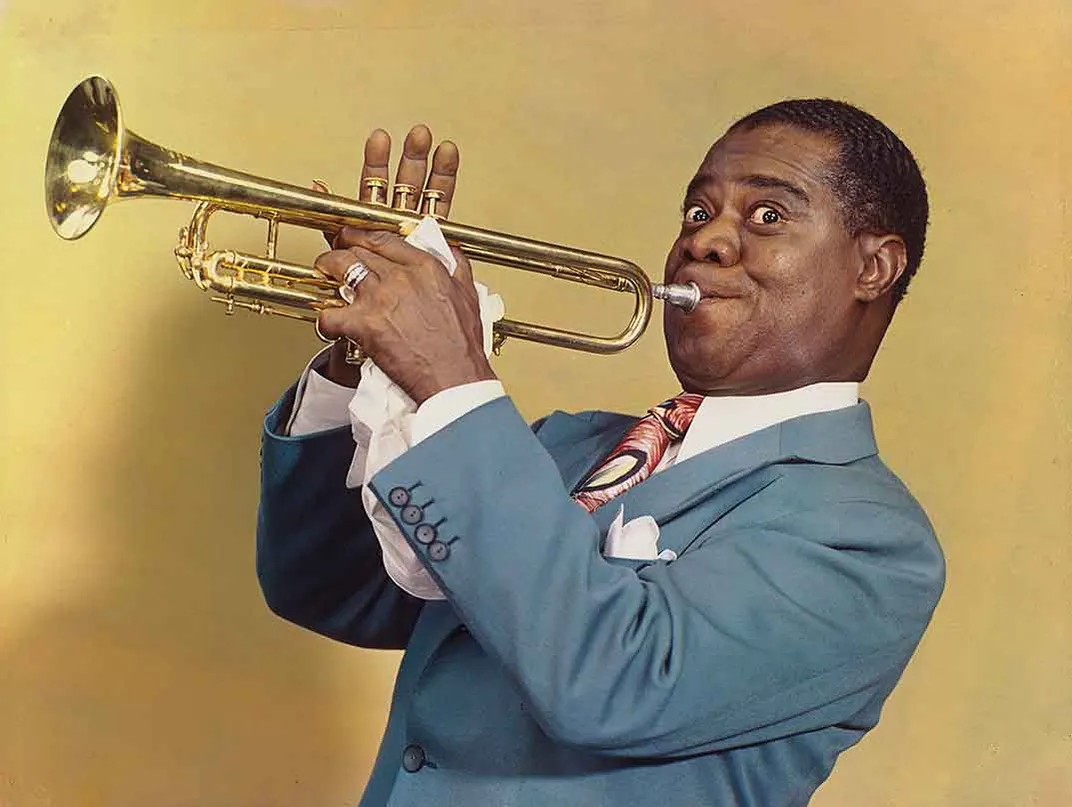 Naturally, he was interested when he was invited to play the Smithsonian's Armstrong horn on the occasion of the installation of Smithsonian's 13th director, David J. Skorton, in a ceremony last fall, accompanied by the Smithsonian Jazz Masterworks Orchestra.
"It sounded better than I thought it would sound," Marsalis says of the historic instrument. "In terms of music, his horn sounded good because of him. When he's not playing, you don't think you're going to pick up Louis Armstrong's trumpet and sound like him."
Although Armstrong played dozens of instruments, the Smithsonian's horn, made by Henri Selmer of Paris is among only a few to be inscribed with his name. It was ordered in 1940 by his friend and manager Joe Glaser. A correspondence from Glaser to the Selmer instrument company dated Feb. 22, 1946 noted that Armstrong had been using a Selmer trumpet manufactured in 1932 and wanted "an exact duplicate."
Armstrong said once he went through trumpets fairly regularly. "I give my horns about five years. Of course I look after them, run hot water through the instrument every night so you know it's going to percolate." 
"It will last forever if you keep it cleaned out, like your stomach," Armstrong said. "So I could keep my trumpets longer, but I use a horn a lot and that's how long I usually give 'em." The '46 Selmer, acquired by the Smithsonian in 2008, did hold up, allowing Marsalis to get a bright sound out of it nearly seven decades later. "It was a great playing instrument. It played fantastically," Marsalis says. "I really enjoyed it."
It's not often he plays a museum object, but Marsalis said he was cautious with it.
"When you play anybody else's horn, you're always careful," he says. "Like when you take care of somebody else's kids, you're going to be definitely more careful than you are with your own. But it's not like I'm doing that much with it. I'm just going to play it. The horn was not in danger."
There was some adjustments he had to make, however. 
"I didn't have a mouthpiece to play with it, because on my horn, the mouthpiece is connected to the horn," Marsalis says. "So one of the members of the band gave me a mouthpiece and I played it with another mouthpiece. Which gave me a little bit of challenge." 
Still, Marsalis, a nine-time Grammy winner who wrote the first jazz piece to win a Pulitzer, says he usually plays a Selmer trumpet as well—and like, Armstrong, he gives his instruments away after about five years as well. "I didn't know that's what he did too, but that's generally what I do," he says. 
There were some preparations needed to make the horn playable, says Dwandalyn Reece, culture curator for the museum. "The trumpet came to us in pretty good condition," Reece says, though she added, "It wasn't playable when it got here. And there was some treatment to put it in that condition."
A conservator and tuner were brought in to deal with some of the trumpet's issues, says Renee Anderson, the museum's head of collections. "There was a lacquer coating on it to help prevent tarnish. We looked to see if there were any spots where the lacquer impacted the valves," Anderson says. "There were areas where the valves were a little sticky so we wanted to make sure they would flow freely."
Playing an historic instrument from the museum's collection was a first, says Reece.
But musical instruments are different than other historic items in the collection, she says. "Instruments are interesting things in that their sole purpose in life was to be played and to live in that kind of way. The National Museum American History brings out a couple of instruments that get played every once in a while. But it's a kind of tug of war, between the conservation needs of the object and whether it can be played without any damage."
"There's a deep philosophy and set of considerations behind playing original, historic instruments in a museum's collections," adds John Edward Hasse, the curator of American music at the American History Museum. Hasse notes that John Coltrane's saxophone was brought out of the collections and played during a concert of the renowned saxophonist's music.
"An instrument exists for one fundamental reason," Hasse says, "to make music that can be heard." But it's a careful balance in preservation and allowing an instrument to achieve its potential, he says.
The Armstrong horn passed its test so it could be played by a jazz giant of his own era.
"It was exciting to hear it and to see that connection of the generations of this pivotal instrument from this person who was so important not only to jazz, but to American music," Reece says.
UPDATE 5/25/2016: A previous version of this story reported that the trumpet was the first to be inscribed with his name. We regret the error.