To Be A Successful Art Collector
39 highly conceptual paintings, sculptures, wall drawings, installations and films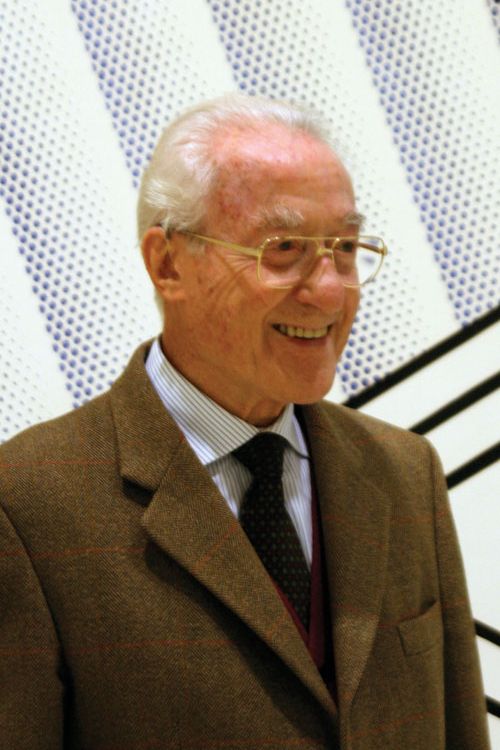 I'm going to admit that I am, by no means, a modern art buff. So when I attended the recent press preview of the new Panza Collection at the Smithsonian's Hirshhorn Museum and got a look at the 39 highly conceptual paintings, sculptures, wall drawings, installations and films from the 1960s and 1970s acquired by Count Giuseppe Panza di Biumo, I was looking to understand it all. To my surprise, the count—recognized as one of the world's foremost collectors of modern art—was there. He, his wife Giovanna and their two grown children had flown in from Milan for the occasion.
I had wandered amongst the newly acquired pieces from Panza's collection that the museum proudly purchased last spring— text blazoned on walls, fluorescently-lit installations, a 47-foot long strip of white marble stones, a set of five glass cubes labeled "Box," "Cube," "Empty," "Clear" and "Glass," among other things and wished I could tour it alone with Panza as my guide.
As Kerry Brougher, the museum's acting director and chief curator, spoke to the packed room of Panza's 50-plus years experience at the forefront of buying and collecting cutting-edge art, I shifted my weight and craned my neck to try to get a glimpse of the 85 year-old, who was sitting in the front row. His brief comments were rendered almost indecipherable due to his heavy Italian accent and the ambient press conference chatter.
The man has the Midas touch. Everything he touches – works by Robert Barry, Robert Irwin, and On Kawara—turns to gold. He reportedly bought Lichtensteins for $600 in 1962 before Lichtenstein was Lichtenstein. I was intrigued. What does it take to have that kind of foresight?
Later that day I found an 1985 interview of Panza, conducted over the course of three days by longtime Los Angeles art critic Christopher Knight, in the Smithsonian Archives of American Art. The conversation shed some light on my question.
Growing up, Panza's mother took him to museums and exhibitions on Sundays, and, at age 14, when he got scarlet fever and was confined to a room for 40 days, he studied art from a 30-volume encyclopedia. "At the end of the 40 days, I was able, hiding the label which was below each picture, to tell the painter, the school, the approximate time when it was made," explained Panza.
Later, he delved into magazines and asked dealers, critics, collectors and artists which of the emerging artists they were most interested in. Keeping a long list of budding artists, he sought out galleries that exhibited their work. Though Panza reportedly never spent more than $10,000 on an artwork, the Italian aristocrat had family money, which enabled him the luxury of travel for the sole purpose of viewing art.
Once he decided he liked an artist, he would buy all the work he could get his hands on. "I was looking for the best period of each artist," said Panza. On his strategy, he's said, "The best artists are not the successful one; are the artist having real qualities related to the art history, not to the fashion or to the taste of the moment."
The Panza Collection runs until January 11, 2009. Go see it, and report back with your thoughts on his vision in the comment area below. And let us know which artist's work Panza should collect next.
(Photo of Count Giuseppe Panza di Biumo courtesy of Bob Allen)