The Tipi Gets a Makeover
Ideas of evolution and tradition commingle in a new show at the American Indian Museum in New York City
Sometimes a symbol can be so familiar that even out of context—different surroundings, different colors and very different materials—it remains immediately recognizable. That's the case of the five neon-colored tipis that anchor the exhibition "Manifestipi," currently on view at the Smithsonian's National Museum of the American Indian's George Gustav Heye Center in New York City. Created by ITWÉ Collective, a trio of artists based in Winnipeg and Montreal, Canada, the eight-foot-tall structures made of frosted plexiglass look nothing like what we think of as a traditional tipi, but are unmistakably that.
"You see the tipi, you immediately recognize it—but the artists are doing something very unconventional with the form," says Kathleen Ash-Milby, associate curator of the National Museum of the American Indian. "These are plexiglass, the colors are constantly shifting, it's not a traditional palette you might normally associate with Native people."
The tension between tradition and change is evoked in the exhibition's multimedia elements: A shifting soundscape (created by audio artist and musician Michel Germain, who collaborated with ITWÉ on this work) fills the room. On the wall, historic images and illustrations of indigenous people (sourced from the Saint-Boniface archives in Manitoba) are played in a continuous loop with bright streaks and patches of color added by the artists. The colors of the tipis drift from pink to blue to orange and back.
"We have been evolving tremendously, and the tipi still remains a powerful symbol of our culture," explains artist Caroline Monnet (Algonquin/French), a multimedia artist based in Montreal and a member of the ITWÉ trio—the others are Kevin Lee Burton (Swampy Cree) and Sébastien Aubin (Cree/Metis). "However, we cannot put all indigenous people in the same bag. . .We are challenging the tipi as a stereotypical symbol of our culture and therefore making it fun and accessible to all."
The title immediately brings to mind the 19th century doctrine known as "Manifest Destiny," that invested white U.S. settlers with the justification to occupy and annex Native American lands throughout North America. But ITWÉ aims to reframe the idea of "manifestation" into something empowering for indigenous people.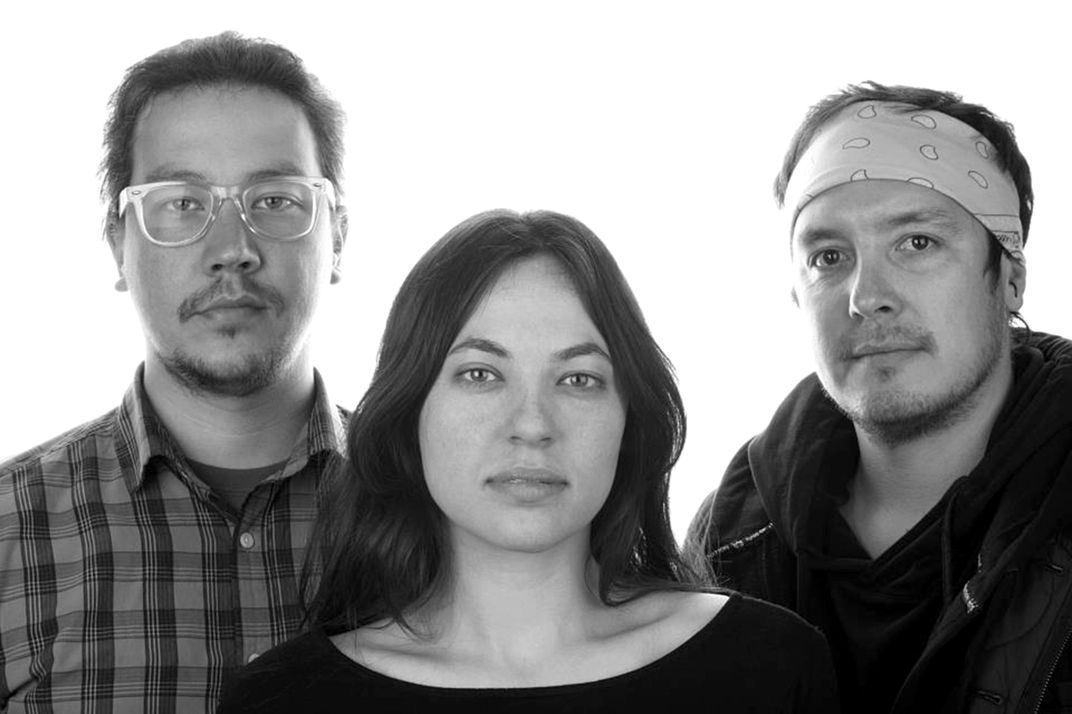 "Like, 'manifest something' or reignite something—to manifest your own reality," says Burton. "To try not to get caught up in a downward spiral or wallow in self-hatred. We're engaging in conversation from a different angle, trying to step toward another future: What is inside your heart, celebrating your culture, yourself, your identity your nation, your history—and making a present tense."
Adds Monnet: "Manifestipi was created with the aim of opening up dialogue, taking up space as indigenous people but also inviting other nations to be part of our manifestation."
The artists laid out the work in a circle, like a gathering place. Its location is in the lower level of the museum, where the institution traditionally brings groups for education, symposia or performances. A circle is painted onto the room's floor and evokes the sense of open dialogue that the artists hope will take place here.
This also reflects the democratic approach that ITWÉ has developed for all its projects since it was formed in 2010—with each member empowered to speak their mind and to share ideas. The three members each come from a different background with distinct artistic interests, together creating an aesthetic distinct from their individual work.
"Kevin has a strong background in filmmaking, new media and community work, Sébastien is coming from his graphic design perspective and I bring some experience in visual arts and filmmaking," says Monnet. "Together, we weave our respective interests, expertise and cultural background to create new works."
The work is itself an evolution of form and materials. ITWÉ created the original Manifestipi in 2013 as an outdoor work set on The Forks in Winnipeg (the historic gathering place where the Red River and Assiniboine River meet), commissioned by ARTV out of Quebec for a TV special focused on the collective.
Adjacent to the newly built Museum of Human Rights, the work broadcast the archival video onto trees, with dry ice used to create the impression of a fire burning inside a tipi. Constructed of metal poles, wires and rope, it was "absolutely less refined than the work we have now [at the museum]," explains Burton, who is based in Winnipeg.
In this first iteration, the collective created its own encampment by using materials sourced in the urban surroundings, effectively "creating our contemporary version of a tipi as urban indigenous," as Monnet puts it. "We wanted to take back territories and space. We wanted to occupy space and grounds."
Burton adds that in this work, the collective sought to make a comment on occupied space—reimagining The Forks as if it were still the home of indigenous people.  
"We couldn't just go and chop down trees," he explains, "but we sourced the wiring and metal rods for the tipis from local sellers, enacting that process of gathering local materials with everyone having a hand in building it."
After its exhibition at The Forks, Manifestipi went on to be shown at three different galleries throughout Canada, evolving as it went—the design became more refined, the number of tipis expanded from one to five, and in 2016 ITWÉ worked with engineers to professionally manufacture the current versions of the neon-colored structures in part to make the work more transportable ("like piecing together Lego parts" as Burton puts it). The importance placed on making the work easy to move was not just about convenience, but emphasized the theme of the nomadic lifestyle of those who had to migrate over the seasons.
"It's meant to be a conversation starter—meant to attract people but bring them together for conversations," says Ash-Milby. She adds that it aims to help viewers rethink what is meant by "tradition" to begin with. Rather than as something that's static or in the past, "tradition is really about things being in motion and changing."
"Manifestipi" is on view through March 25, 2018 at the George Gustav Heye Center, the National Museum of the American Indian in New York City.