Tim Gunn Makes it Work at the Teen Design Fair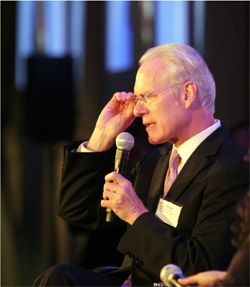 Tonight more than 400 New York City high school students interested in pursuing careers in fashion, architecture and industrial, interior and graphic design will gather at the Cooper-Hewitt, National Design Museum's Teen Design Fair in Manhattan. The fair, which the museum has hosted annually since 2007, offers teens the opportunity to meet top designers and learn about programs and scholarships offered at design colleges across the country.
Tim Gunn, Chief Creative Officer at Liz Claiborne Inc. and co-host of Lifetime TV's Project Runway, will deliver the event's keynote address. He has spoken at the last few fairs (hear his speech from last year here), and said, in a phone interview, as long as he is invited, he will keep coming. Gunn is committed to mentoring aspiring students and at Parsons The New School of Design, where he was a faculty member and administrator for 24 years, and in the Project Runway work room, he has seen such promise in the new generation of emerging designers. "They have a sincere passion for designing," he says. "They have a vision, and they want to make their mark on the world."
Fashion designer Cynthia Rowley, chief Google webmaster and logo designer Dennis Hwang, New Yorker and New York Times illustrator Maira Kalman, architect Stephen Kieran, comic book illustrator Phil Jimenez and interior designer William Sofield, among others, will be in attendance to meet with students.
The Teen Design Fair is part of the museum's National Design Week (October 9-17) programming, taking place in New York City and around the country. Added bonus: Admission to the Cooper-Hewitt is free for the week. Take advantage!