This Towering 19th-Century Mechanical Clock Was the Smartwatch of Its Era
With hundreds of moving parts, the Great Historical Clock of America has been revived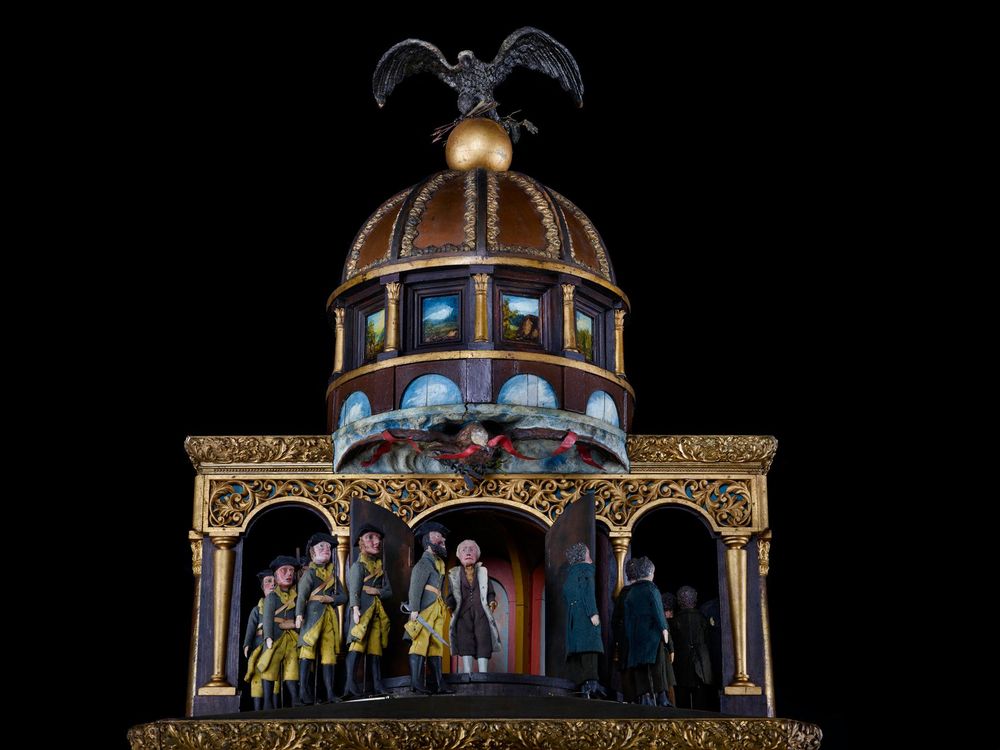 The Great Historical Clock of America had been forgotten.
Despite being 13 feet tall and more than six feet wide, with moving parts showcasing key aspects of American history—Civil War veterans marching; a tiny boat at the bottom of Niagara Falls; Paul Revere on horseback; George Washington emerging every hour to wave hello; and Robert Fulton's steamboat racing ahead on its moving paddlewheels—the Great Historical Clock of America sat alone and forgotten in a New Hampshire barn.
"I was the one who rediscovered it in the early '80s," says Carlene Stephens, curator of clocks at the Smithsonian's National Museum of American History. "And it was really dusty. And my colleagues thought: 'What do we need this for?'. . . . But my belief is, at the Smithsonian, what we're doing is selecting items for posterity. What is one period's oddity is another period's treasure. That's what we're looking for."
Built in about 1893, possibly by C. Chase of Boston, the timepiece exemplifies the clock-making industry's efforts to provide public entertainment and education before the age of radios, television and the internet. It was also intended to spark interest in the significant moments of American history.
Or, as the influential education reformer and social philosopher of the age John Dewey, put it: "Democracy has to be born anew every generation, and education is its midwife."
The clock explored America's difficult and romantic ideal of democracy by giving viewers a distilled version of the nation's evolving history.
Now, for the first time in nearly a century, the clock is back in public view, reminding people of the great experiment that is American democracy. It's a centerpiece of the National Museum of American History show "American Democracy: A Great Leap of Faith," which is part of the re-opening of the museum's shuttered west wing.
The exhibition details the democratic experiment that is the United States, and it's full of other pieces of history, too: Artifacts include the desk upon which the Declaration of Independence was written, George Washington's document box from the original Constitutional Convention, chairs from the 1960 Kennedy-Nixon presidential debate and the slogan-plastered Woman's Suffrage Wagon used between the 1870s and 1920s.
Still, one of the tent-poles of the exhibition is the Great Historical Clock of America. At the time of its creation, there were a few clocks of similar complexity on display around the country.
Another monumental clock of the age, the Engle Clock, is currently on view at the National Watch & Clock Museum in Columbia, Pennsylvania, but many of the grand devices have been lost to history.
Within this once-distinguished group of timepieces, the Great Historical Clock of America was the most complex and well renowned. It traveled as far as Australia, New Zealand and Seattle, illustrating triumphs of American history and the nation's clockmaking expertise while simultaneously educating viewers. This winning combination arrived wrapped in a spectacle of historical tableaux that underscored both American innovation and history.
"We forget now that, back a little more than a century ago, what constituted entertainment was very different," says Stephens.
The clock required restoration, which is where Smithsonian conservator Beth Richwine comes in. "It was a lot worse for wear," she says.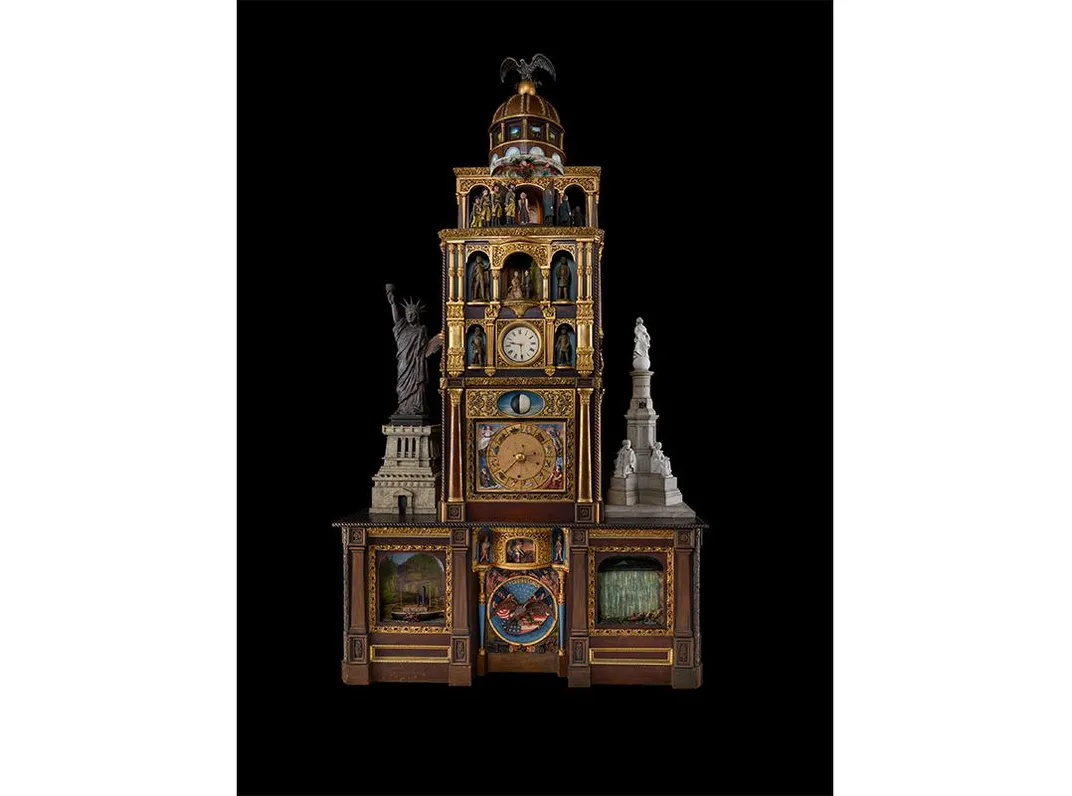 Working with Smithsonian colleague Richard Barden and a team of eight conservators, Richwine spent more than 300 hours cleaning dioramas and mechanisms to ensure the clock was as close to its original working condition as possible—cleaning it, stabilizing it and getting it to run again.
Among other projects, for the clock's Niagara falls diorama, the team restored a painted canvas loop, made to look remarkably like falling water and cleaned up dozens of marching soldiers.
They kept discovering new secrets about the clock as they worked. "It was designed to travel," Richwine says, "so it can be dismantled and packed in travel crates. It's amazing."
The conservators also discovered that the various dioramas on the clock, from Pocahontas pleading with her father to spare John Smith's life to the Pilgrims' landing at Plymouth Rock, all run off of a single central shaft powered by three weights that total nearly 100 pounds. "It's all connected," says Richwine. "There's even a music box inside. It's just a remarkable feat of engineering—and planning."
Or, as Harry Rubenstein, the chairman and curator of political history at the museum and one of the organizers of the exhibition, says, "Democracy is still a work in progress, but it is the core of our nation's political, economic and social life. We invited visitors to explore out distinctive American democracy, and to participate in creating a more perfect union."
The nation's democratic experiment and other questions of American democracy can be considered in the new permanent exhibition "American Democracy: A Great Leap of Faith" at the Smithsonian's National Museum of American History in Washington, D.C.