This Just In: White House Officials to Join National Design Award Winners in DC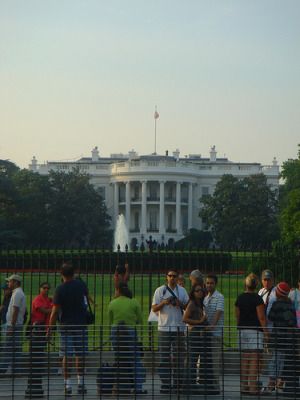 Last week, co-blogger Abby Callard reported on the public programs being held this coming Friday (10 AM-11 AM) at Smithsonian and other area museums in conjunction with the Cooper-Hewitt's tenth annual National Design Awards. But the Cooper-Hewitt has now announced that some administration officials and White House staff will be added to the bill.
Meet these high-ups who will be moderating the programs:
Aneesh Chopra - Formerly the Secretary of Technology for Governor Kaine of Virginia, Chopra was appointed the U.S. chief technology officer by President Obama. In a weekly address made back in April, the President explained that it was Chopra's job to "promote technological innovation to help achieve our most urgent priorities—from creating jobs and reducing health care costs to keeping our nation secure"—basically, to used technology to make government more efficient. He will be discussing the future of interaction design with Jeff Han of Perceptive Pixel Inc. and Andrew Blauvelt of Walker Art Center, affiliates of two National Design Award winners, at the Hirshhorn Museum.
John Holdren - Holdren, a powerhouse when it comes to political environmentalism, is the director of the Office of Science and Technology Policy in the Executive Office of the President. His office is charged with advising the president on scientific affairs, particularly on energy independence and global warming. Holdren's impressive resume includes having been the Teresa and John Heinz Professor of Environmental Policy at Harvard's Kennedy School of Government, director of the Woods Hole Research Center and president of the American Association for the Advancement of Science. Holdren will be speaking on technology and sustainability with design award winners Amory Lovins and Bill Moggridge at the National Museum of the American Indian.
Anita Dunn - Dunn is the White House acting communications director. She was a top adviser to Barack Obama's presidential campaign and a Democratic political consultant for the Washington-based media consulting firm Squier Knapp Dunn. She will be joining award winners Bovm Partners and the New York Times Graphics Department in a discussion about the relationship between current events and the design process at the Smithsonian Castle.

Ebs Burnough - Burnough is the White House deputy social secretary. Prior to this appointment, he worked for 1199SEIU, a union of healthcare workers in New York, Maryland, D.C. and Massachusetts, in several capacities. He will moderate a discussion on the role of material with fashion designer Calvin Tsao and interior designer Zack McKown at the Corcoran Gallery of Art.
Neill Coleman - Coleman is the general deputy assistant secretary at the U.S. Department of Housing and Urban Development. Born in Scotland, he only arrived to the States in 1998, but he has managed to rise to his current appointment by working on a U.S. congressional campaign, doing some private PR work and working for the New York League of Conservation Voters and then the New York City Department of Housing Preservation and Development. He will be leading a talk with Gregg Pasquarelli of SHoP Architects and landscape designer Walter Hood at the National Building Museum on how design can be used as a tool to create a sense of community.