Reiko Ishiyama still remembers the fashionably attired woman she saw more than 30 years ago aboard a bus in New York City. But it was not her stylish clothes nor her beautifully coiffed hair that first captured the young artist's attention. Rather, Ishiyama could not stop staring at the woman's earrings, the way they dangled and danced. Shaped like traditional Asian lanterns and suspended by delicate chains, her earrings struck Ishiyama as poetic and visually captivating. These were artworks, miniature versions of the round paper vessels once used to carry candles through dark nights, and Ishiyama admired how the earrings moved with every nod and gesture that the woman made.
"The woman was striking," the artist says, and in a sense, she changed the trajectory of Ishiyama's life.
Ishiyama had just moved to the United States from Japan, hoping to continue working as a sculptor. Yet that day, as she watched the woman, she wondered if she too could create jewelry that left viewers as entranced as she was. Her skills as a sculptor were reasonably transferable. Like sculpting, crafting jewelry is an art form, with each piece honed and designed by a maker's hand.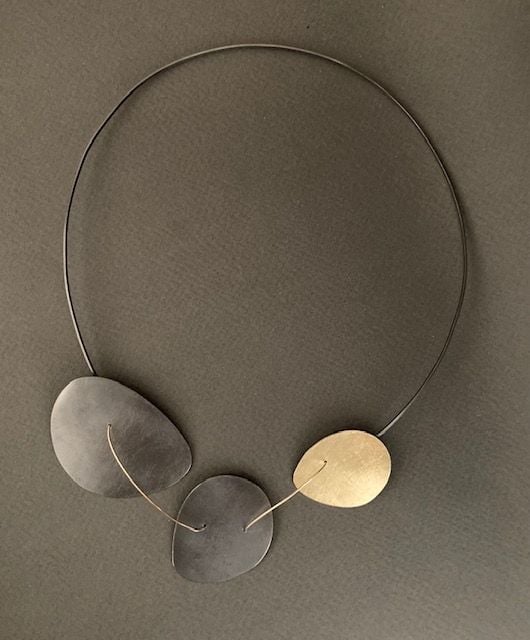 Now, Ishiyama's art will be available to view and purchase at this year's Smithsonian Craft Show. The four-day event, which "celebrates the American spirit in craft and design," runs from Thursday, May 4, to Sunday, May 7.
In Japan at that time, Ishiyama says, statement pieces were rare. Women typically wore small pearls or gold earrings and rarely adorned themselves with flamboyant, declarative pieces of jewelry like the earrings worn by the woman on the bus.
Ishiyama primarily works with silver. "Because, first of all, it's affordable," she says. "I can fail." Ishiyama is a self-taught jeweler, and when she first began practicing her craft, she figured that silver was a good place to start.
"I said to myself, 'I'm learning.'" Gold was too expensive and left little room for error. "For some reason, after so many years," she adds, "I'm still working with silver."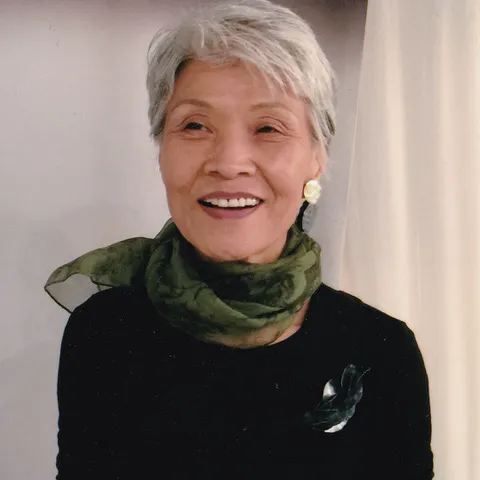 Ishiyama was born in Osaka, Japan, and went to nearby Kwansei Gakuin University. The minimalist Lee Ufan—a Korean-born painter, sculptor, writer and philosopher, who spent most of his life in Japan—became her mentor and biggest influence. The avant-garde artist—whose show "Open Dimension" three years ago transformed the Hirshhorn's sculpture garden at the Smithsonian with his quiet rock and steel works—taught the up-and-coming-artist how to approach the world and the materials it offers. Ishiyama learned from Ufan to open her mind in order to envision greater potential, giving organic materials such as stone—which Ufan famously incorporates into his organic installations—a second look. "We have to step out of our fixed ideas," she says. "If I take off my existing idea of stone, I open up more ideas of what stone might be."
Now when Ishiyama approaches raw materials, like silver, she says she treats her practice like a conversation, working with the material and letting it help shape itself, rather than forcing the material into something it is not.
"I like to talk to silver," she says, describing her craft. "The silver may talk back to me. We have to be humble, open."
In her "conversations" with the raw materials, Ishiyama's jewelry slowly takes shape in each individualized process. In this way, she says, one piece "opens" itself and "leads to the next."
Out of traditional craft flows new designs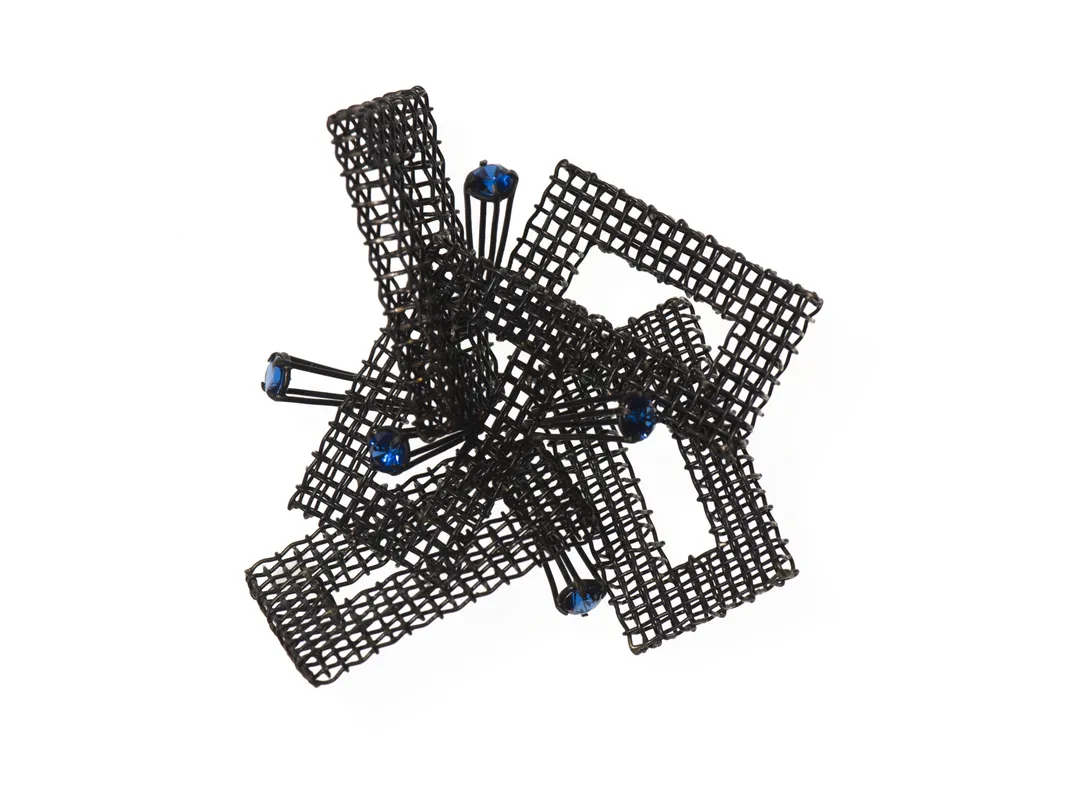 Jeong Ju Lee, another artist chosen to share her wares at the Craft Show, draws from traditional Korean aesthetics when crafting her jewelry. Like Ishiyama, Lee moved to the U.S. hoping to establish her career as an artist. For both women, the cultural complexities and historic aesthetics they brought with them have allowed them to forge their own unique paths in the art industry.
"My mom used to make chogak po out of leftover fabric," Lee says, referring to the centuries-old Korean tradition in which wrappings were made from textiles, resulting in a large, colorful patchwork cloth used to cover, transport or preserve objects. They were also used as tablecloths or protective blankets.
"It's a traditional art form, but it delivers a very modern geometric style," Lee explains. "I encourage myself to incorporate this symbol or motif of Korean art into my work."
Lee, who is one of five children, says her mother spent most of her time taking care of her large family. "But my mother was always making something," she says. "She made traditional patchwork out of leftover fabric. She also custom-made other traditional clothing. She's a great model for me, very creative and sincere."
Lee says her jewelry incorporates "unconventional materials," such as woven steel mesh and corrugated metal that she uses to craft bold new geometric patterns in 3D.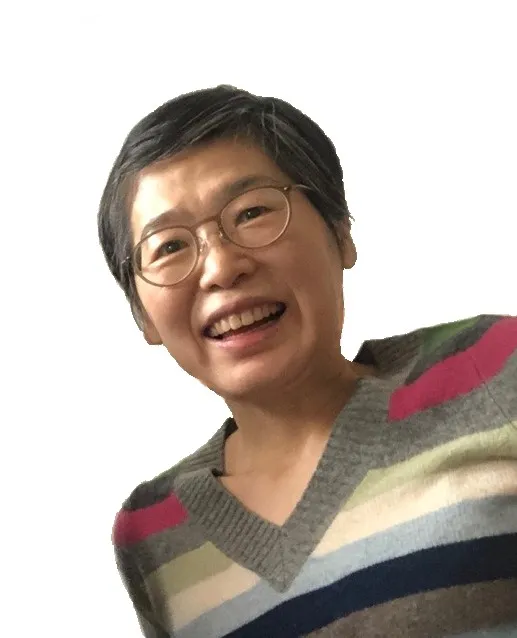 In 2005, Lee left South Korea to study art at the Rochester Institute of Technology in New York State. But following graduation, she started out designing furniture, not jewelry. As an apprentice to the renowned American sculpture and furniture maker Wendell Castle—sometimes referred to as the "father of the art furniture movement"—Lee fell in love with geometric shapes and unconventional architectural designs. Castle's influence on her work as a jeweler is evident, she says, in the "line and spatial relationships that are inspired by architectural structure."
Her art, with its innovative shapes and materials, has been described as futuristic. But Lee argues her work is more grounded in the past, drawing inspiration from Korea's rich culture and history.
"In old traditional Korean society, there is furniture made out of wood. It's a kind of a bookshelf. It has open space on all four sides. It's very geometric, architectural and simple," Lee explains. "But I accepted that kind of aesthetic into my work."
Pieces from artists like Lee and Ishiyama add crucial nuance to this year's theme at the Craft Show—"Celebrating the American Spirit." Both artists draw inspiration from traditional Japanese and Korean aesthetics; in doing so, they demonstrate the complexity and depth of Asian American art. The "American Spirit" is not monolithic, nor does it adhere to a singular definition or art form. Rather, the "American Spirit" is as culturally rich and diverse as the artists being represented at this year's craft show.
Ishiyama says that because English is not her first language, it is hard for her to communicate with others at times. She loves jewelry making for the ways it allows her to communicate through her art. "Showing my pieces to the public, I meet wonderful, unexpected human beings," she says.
Lee agrees. She says one of her favorite aspects of jewelry making is seeing her customers try on her pieces, looking for new ways to express themselves. "I make beauty from my hands, from my ideas," she says. "I'm pleased with what comes from my hands, my time, and my ideas, and that people enjoy my jewelry."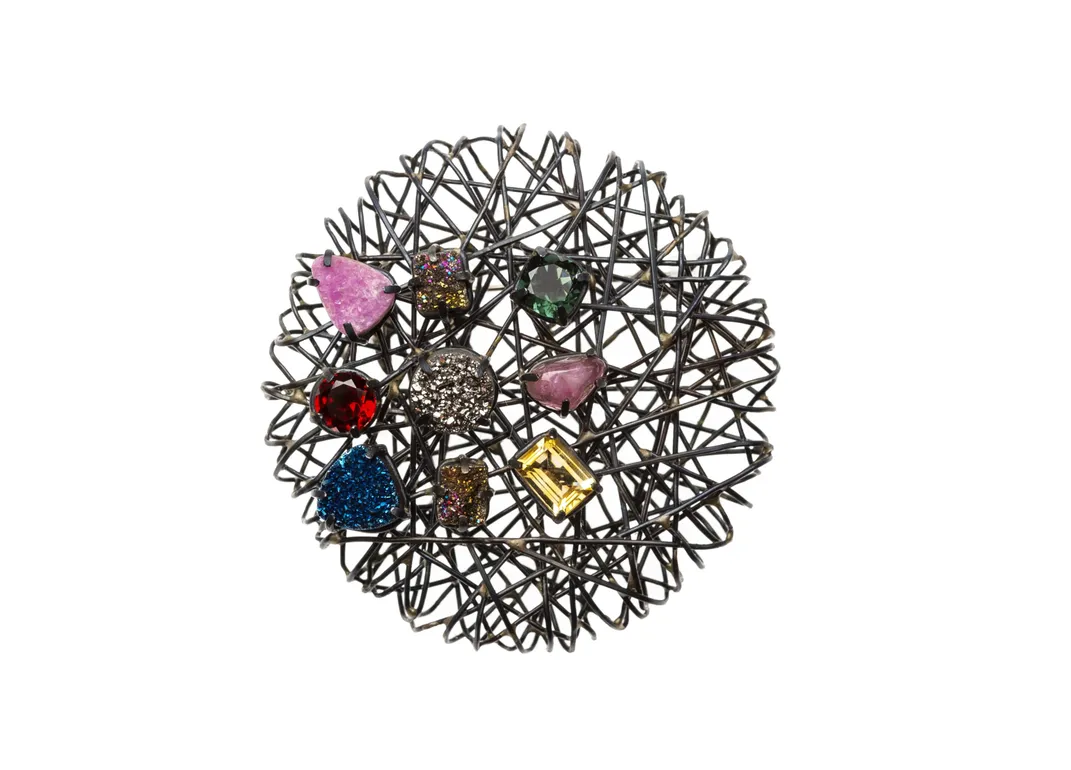 The
Smithsonian Craft Show
is both an exhibition of contemporary American craft and a fundraiser to benefit research endeavors at the Smithsonian Institution. The show is on view from May 4 to May 7 at the National Building Museum in Washington, D.C. Other events include a preview night benefit on May 3 from 5 to 9 p.m.; an online auction from May 3 to May 9; a ticketed panel discussion, "
The Beautifully Crafted Object: Extravagance or Necessity
?" on May 4 at 1 p.m.; and a ticketed
luncheon
and panel discussion on May 6 at 12 p.m.