Thelonious Monk Vocal Competition Brings Semi-Finalists to NMAI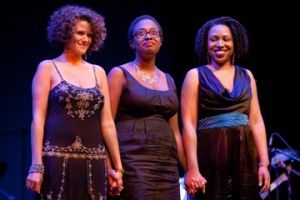 Monday night at the Kennedy Center, 21-year-old Cécile McLorin Salvant from Miami was proclaimed the winner of the 2010 Thelonious Monk Vocal Competition, an honor of utmost prestige in the jazz world and one that has launched the careers of several notable jazz singers over the past quarter century. "I feel like I'm on a cloud," Salvant told NPR.
Finalists Cyrille Aimée, 26, and Charenéee Wade, 28, performed alongside Salvant to compete for the grand prize of $20 thousand and a recording contract with Concord records, a label at the forefront of jazz with such young sensations as singer and bassist Esperanza Spalding, as well as jazz fixtures like Coltrane, Ella Fitzgerald and even the one and only Monk.
Last Sunday the Smithsonian played a role in this world-famous competition, hosting the semi-finals at the American Indian Museum's Rasmuson Theater.
"A dream come true" was the catch phrase on more than one person's lips as the twelve semi-finalists competed for the three spots in the finals. The annual competition put on by the Thelonious Monk Institute of Jazz awards 100 thousand dollars worth of prizes every year to outstanding musicians under the age of 30. For all Monk Competition hopefuls, advance planning is necessary to enter. Only two categories of the contest are held each year (saxophone, bass, composition, piano, drums, hand drums, trumpet, guitar and trombone are the categories to date), so each instrument only comes around once every four or five years. For most, there will be one or two opportunities to enter before turning 30.
Sunday's performers ranged from ages 20 to 30. Each sang a set of 15 minutes, including at least one Thelonious Monk composition. The competition band accompanied them, with Reggie Thomas on piano, Rodney Whitaker on bass and Carl Allen on drums.
The judging panel included Diane Reeves, Patti Austin, Al Jarreau, Dee Dee Bridgewater and Kurt Elling, who together are a regular repository for Grammys, Tonys and the like. Aretha Franklin was supposed to be there, but couldn't make it, so Gladys Knight stood in to round out the panel (she commanded just as much R-E-S-P-E-C-T).
(As an aspiring jazz vocalist myself, the proximity to these famed singers and the sheer exuberance of the contestants made me want to trade in my journalist's pad and pencil for a try at the mike.)
After nearly four hours of performances, the judges conferred for about twenty minutes before jazz great Wayne Shorter announced the three finalists.
The finalists delivered standout performances. Aimée's take on the Santana tune "Oye Como Va" clearly stole the hearts of the judges, who couldn't resist her copious curls and delicate, sensuous voice. Wade, who was a finalist in the competition in 2004, channeled songstress Sarah Vaughan in her rich interpretation of Cole Porter's "You'd Be So Nice to Come Home To." But future winner, Cécile McLorin Salvant hands-down stole the show, with her sassy yet masterfully measured rendition of the Bessie Smith song, "Take It Right Back (Cause I Don't Want It Here)," which worked the audience (and me) into a hooting and hollering frenzy.
For those who weren't fortunate enough to win, all is not lost. Many former finalists and semi-finalists have also gone on to have high profile careers (Jane Monheit, Roberta Gambarini and Tierney Sutton, to name a few). But Salvant, the proud winner, will now reap the benefits of her recording contract and 20 thousand dollars, which she says she will put towards studying in the United States before eventually settling in France to continue her jazz singing career.