The "Spirit of Tuskegee" Stearman Lands in DC
After a month-long trip from California to Washington, D.C., a biplane once used to train Tuskegee Airmen arrives at the Smithsonian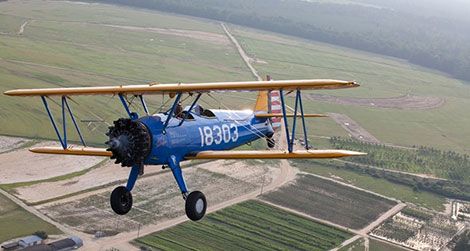 This past Tuesday afternoon, after a month long trip across the country with several stops at air shows and air fields along the way, Matt Quy landed his "Spirit of Tuskegee" World War II era Stearman biplane at Andrews Air Force Base near Washington, D.C. The 35-year-old Air Force captain purchased the open-cockpit, Stearman PT-13D, used to train African American pilots known as the Tuskegee Airmen from 1944 to 1946, at an auction six years ago, restored it and has now donated it to the National Museum of African American History and Culture.
We here at the ATM blog have been following the story of this plane quite closely. Smithsonian magazine columnist Owen Edwards wrote, in early July, about his thrilling flight with Quy in the plane over Northern California and the history of the plane. At the end of July, Edwards reported on Quy's month-long journey from Lincoln, California, to Washington, D.C., to fly the plane to the Smithsonian. The pilot did not take a direct route, but instead stopped at places like the U.S. Air Force Academy in Colorado Springs and Moton Field, the plane's original home during World War II, in Tuskegee, Alabama. In both places, original Tuskegee Airmen were able to view it. So, in a sense, the plane's arrival in Washington feels like an end to an interesting story.
"Watching the plane land at Andrews was a relief on one level—to know that the plane had reached the end of its journey safe and sound," says NMAAHC curator Paul Gardullo. "But it is also a beginning of a new life for the plane, that we can share with millions of people for generations to come."
The museum timed the arrival of the plane with the Tuskegee Airmen's National Convention, being held at the Gaylord Resort in National Harbor, a convention center outside of Washington. About 40 original Tuskegee Airmen and hundreds of other members of the group attended to celebrate the 70th anniversary of their first training sessions in the summer of 1941. On Wednesday evening, Quy flew the plane over National Harbor for some of the airmen to see. "We flew right over National Harbor and actually did a 360 degree turn, so we could really get everyone a nice view of the plane," says Quy. "It was pretty memorable."
Gardullo says that for the airmen who saw it, it was a powerful trigger for memories. They reminisced about their time in service and were interested in hearing about how the plane has been used since. "We knew it was symbolically important to give these men a chance to see a plane that they actually flew in action one last time before going on display for the American people at the Smithsonian," says Gardullo.
When I spoke with Quy on Thursday morning, he had just participated in a Youth Day at Andrews Air Force Base, where 500 middle school- and high school-aged kids were invited to see the "Spirit of Tuskegee" and other military aircraft on display. "The Tuskegee airmen are a great role model because they show that if you want something bad enough and you are willing to work hard for it that you can accomplish whatever you want to do," says Quy. "It was really fun to be able to talk to kids and hopefully make an impression on them."
Today, the pilot's plan was to take off from Andrews Air Force Base at about nine o'clock in the morning and land at Dulles Airport an hour or two later, depending on ground delays. Later this month, the plane is expected to be on display at the National Air and Space Museum's Steven F. Udvar-Hazy Center, near Dulles, where it will stay for the next few years. When the National Museum of African American History and Culture opens in 2015, the plane will be part of its inaugural exhibitions and remain a permanent part of its collection.
"The 'Spirit of Tuskegee' is important because of the window it provides to two crucial stories," says Gardullo. "First, it allows us to help better tell the story of the Tuskegee Airmen, a pioneering group of African Americans whose contributions were central to the war effort during World War II and whose struggle and perseverance were crucial to ending segregation both in the armed forces and the nation. And, second, it allows us to tell the story of a contemporary Air Force pilot who, in finding, rescuing and renovating this plane, has discovered that this history is not foreign to him, but is deeply connected to his identity as a member of the Armed Services and as an American. It is with and through these stories—past and present—that the National Museum of African American History and Culture works, demonstrating the centrality of African American history and culture to Americans of all backgrounds."
View a photo gallery from Quy's flight below.