The Space Art of Wang Ming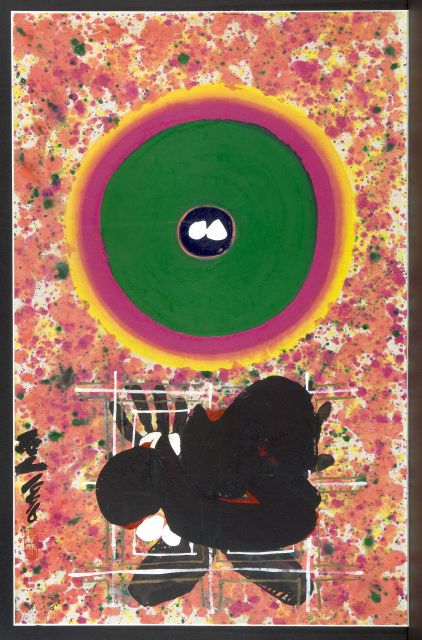 "I have never limited myself to eastern or western standards of beauty. My standard of beauty comes from the beauty of the cosmic world in the infinity." Wang Ming
An 86-year-old man's dream came true this week.
Artist Wang Ming's journey began in the 1940s. As he worked as an air traffic controller in Taiwan, he became interested in the beauty of the sky. He was a young man then, having fled from Japanese-occupied China in 1939 at age 18.
Discouraged from practicing art in the East, he emigrated to the United States in 1951. There he set up a frame shop and began experimenting with celestial images using his signature style of combining untraditional materials, like acrylic paints, with traditional Chinese forms and calligraphy.
Years before the Hubble Telescope began broadcasting images of rainbow clouds and blood red stars, Ming used art to convey what he imagined space to be. His work captured the attention of James Dean, the National Air and Space Museum's first art collector, who purchased two of his pieces.
The Museum continued its relationship with Ming, and yesterday, as Ming stood in front of a solo exhibition containing over 30 of his works, he had many people to thank, including the country that for the past 58 years allowed him to practice his craft.
"He has a very positive outlook, "says curator Barbara Brennan. "He feels like he came to this country and had all these opportunities as an artist."
It's a historic moment for the National Air and Space Museum as well. The Wang Ming exhibit, marks the first time an Asian American artist has been featured in the museum's galleries. The show is also unusual because it reflects an abstract expressionist approach. There are more than 4,700 art pieces in the Air and Space collection, and the majority are realistic illustrations.
According to Brennan, the aesthetics are a reflection of both eastern and western styles. Ming's use of calligraphy and red, black and white reflect his upbringing in China. The large splashes of color are heavily influenced by 1950s American art.
"As an artist, I have been on two journeys in life," Ming says. "One took me to a new and very different country. The other journey has been within myself."
The exhibit "Universal Dimensions: The Space Art of Wang Ming" is on view through October 9 in the Air and Space Museum's West End Gallery.