The Smithsonian Museums and The National Zoo Are Open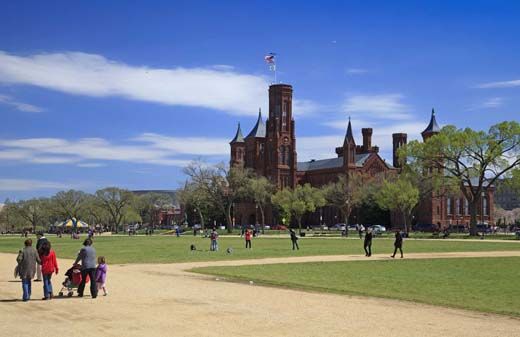 All Smithsonian museums and the National Zoo are open.
Don't miss out on all the events and happenings, all scheduled as planned. Tarantula feedings at the Natural History Museum. A special tour of the Kinsey Collections at American History. An Earth Day celebration at the American Art Museum.
And here's a list of all the exhibitions that are on view.  For the first time, the Freer Gallery's renowned Peacock Room has been restored to its appearance in 1908, when the museum's founder Charles Lang Freer used it to organize and display more than 250 ceramics from all over Asia. The new exhibition, The Peacock Room Comes to America, debuts today.
Other don't-miss exhibitions and landmark Smithsonian artifacts like the Hope Diamond, Julia Child's kitchen, the Ruby Slippers, The Wright Flyer, The First Ladies exhibition can be found at the following Smithsonian museum locations:
The Smithsonian Castle
The Carousel on the National Mall
The Ripley Center and International Gallery
The National Museum of American History
The National Museum of Natural History
The National Air and Space Museum
The Udvar-Hazy Center in Chantilly, Virginia
The Smithsonian American Art Museum
The Renwick Gallery of the Smithsonian American Art Museum
The National Portrait Gallery
The Freer and Sackler Galleries
The Hirshhorn Museum
The African Art Museum
The National Museum of the American Indian
The National Postal Museum
The National Zoo
The Cooper-Hewitt, National Design Museum in New York City
The George Gusav Heye Center in New York City​
This weekend marks a special time for Smithsonian visitors and the Institution's spokesperson Linda St. Thomas expressed her delight that the museums were all open for business this weekend:  "People have planned for months, or a year or more, for their spring visits to Washington, which always includes visits to the museums and the Zoo. If it were up to us, we would never shut down. That's why we are only closed one day a year—Christmas Day."
Of course spring time is also is presenting Smithsonian photographer Eric Long with some of the most exquisite visual opportunities, enjoy this gallery before gearing up to head out.