The Search for Amelia Earhart Resurfaces, 75 Years Later
With new leads on where she may have landed, the mystery and her legacy continue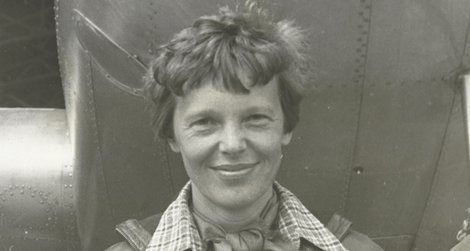 The distance from New Guinea and Howland Island is 2,556 miles. There are no landmarks. There is nothing but water and sky.
On July 2, 1937, somewhere between these two locations, Amelia Earhart and navigator, Fred Noonan, were crammed together in the twin-engined, Lockheed "Electra," in mid-attempt to become the first to fly around the world at the equator.
At about 17:00 hours, they radioed their position: somewhere over the Pacific Ocean near Howland Island. They were low on fuel; communication with the U.S. Coastguard was not planned properly. Three hours later, Earhart radioed again. It was the last anyone ever heard from her.
Fast-forward nearly 75 years and Earhart's name is still making headlines. Today, U.S. government officials met scientists and historians from The International Group for Historic Aircraft Recovery (TIGHAR), to discuss the investigation of an alternative scenario—one that suggests Earhart may have survived as a castaway.
The new search is backed by Secretary of State Hillary Clinton and funded by the Discovery Channel and is planned to coincide with the 75th anniversary of her disappearance. Scientists will use high-tech underwater vehicles to search for remains of Earhart and her plane near the remote island of Nikumaroro; a location researchers say is close to where Earhart's plane went down.
And while new interest in Amelia Earhart's disappearance has resurfaced as of late, Dorothy Cochrane, a curator at the National Air and Space Museum says "Lady Lindy's" legacy has always held a place in the Smithsonian Institution.
"Everybody has a theory, some more serious than others, but it's still the greatest mystery of the 20th century," she says, "and looks like it's heading into the 21st century."
In fact, there are several artifacts from Earhart on permanent display at the National Air and Space Museum and at the Steven F. Udvar Hazy Center. And this June, "One Life: Amelia Earhart," a new exhibit will open at the National Portrait Gallery.
"People come and the first thing they see is her bright, red airplane," Cochrane says. "And they can say, 'That's Amelia Earhart's airplane. Inside that machine is where she became the first woman to fly nonstop across the Atlantic Ocean.'"
The Smithsonian Institution is home to countless artifacts from Earhart's life: her flying leather jacket—the quintessential part of a pilot's outfit, some of the books she wrote after she completed her flights, a radio she used in her first voyage over the Pacific.
The Udvar Hazy Center goes further—housing a flight-suit of hers, a menu from one of the various dinners she attended after completing a mission—even a pair of scissors used to cut her hair. Cochrane says by displaying these items and telling Earhart's story the Smithsonian Institution has kept her alive.
"These are things that Amelia Earhart touched—she tuned this radio when she was flying from Hawaii to California," Cochrane says. "These are tangible pieces of history that relate to this marvelous woman and what she did for aviation."
The new exhibit at the Portrait Gallery delves into the life of "Lady Lindy" beyond aviation, providing examples of her work as a champion for women's rights. In this one-room display, her biography is told through a series of portraits and a small collection of items—her pilot's license, the first earned by a woman, a leather flying helmet and smelling salts.
Earhart founded a pilot program for women called, the Ninety-Nines, (to represent the 99 women who were its first members) and served as a faculty member at Purdue as a women's career counselor and an adviser in aeronautics. She also served as the aviation editor for Cosmopolitan and encouraged other women to learn to fly urging mothers to allow their daughters to take lessons—a radical suggestion for a woman growing up in the 1920s and 1930s.
"She's really the epitome of the modern woman of that era, making up her own career and her own mind. That's what we try to portray here," Cochrane says. "If her plane were found, it wouldn't change our story, but it certainly would bring closure to hers."
"One Life: Amelia Earhart" will be at the Portrait Gallery, June 29, 2012 through May 27, 2013.
Update: Amelia Earhart was not the first women to earn a pilot's license. That distinction goes to Raymonde de Laroche of France, who received her license in 1910.