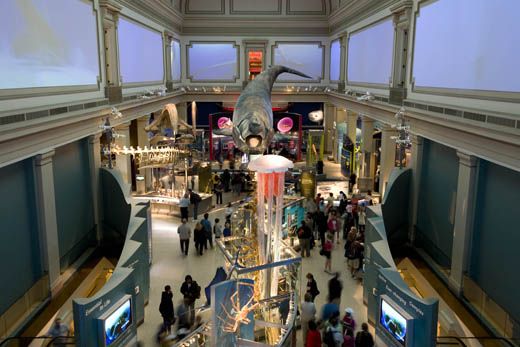 "It's Dory from Finding Nemo!" squeaks the middle-school girl as she passes the coral reef exhibit in the Natural History Museum's Sant Ocean Hall.
Ahead of her, in a convex glass bubble, dozens of small tropical fish peek out through the rocks, entertaining visitors with their colors and curiosity.
Also enjoying the spectacle is Ian Macintyre, the museum's curator of carbonate sedimentology, and a leading researcher of how coral reefs form. He's in the Ocean Hall on a Wednesday afternoon to chat with visitors about his work, part of the weekly "The Scientist is In" program.
"It's about the only opportunity I get to speak to the public," says Macintyre, who has participated three times since the Ocean Hall opened last September. "Most of my conversations are with scientists."
​
As he stands next to his kiosk, the museum visitors are not shy. They approach, ask Macintyre who he is, and listen as he explains the human impact on reefs. A few feet away from the showy fish in a healthy coral ecosystem is an example of a decaying Costa Rican reef, overtaken by algae and sediment. The most common question Macintyre receives is "How can it be fixed?"
Unfortunately, there are no easy answers, but Macintyre does his best to explain. Some visitors never knew there was a problem. Others are curious to learn more about Macintyre's research, and he shows off the first submersible hydraulic drill bit he developed to study reef history. "It's quite rewarding," Macintyre says, "They're very positive."
There are some surprises as well—like the 5-year-old who was interested in cyanobacteria, (meaning blue-green alga). There was also a little boy who wanted to be a botanist. To these kids and other visitors, Macintyre was the first scientist they'd ever met.
"The Scientist is In" program features a weekly rotation of scientists from coral reef researchers to marine mammal experts. The program is unique to the Ocean Hall. It is loosely based on the Lucy character from Charlie Brown and her "The Doctor is In" booth, where she offered psychiatric help for five cents—luckily, scientific knowledge is free. Because of the enthusiasm from both scientists and guests, the museum's education department is now experimenting with the idea in the Dinosaur Hall and African Voices Hall.
Macintyre is all for guests getting behind-the-scenes experiences. He even gave his business card to two teachers who wanted to come back with their children and learn more about his research. "You never know how you might influence people," he says.
"The Scientist is In" takes place Wednesdays from 1 to 3 p.m. at the National Museum of Natural History. To plan your visit, check out GoSmithsonian.com.