The Return of Patent Models to the Original Patent Office Building
A new exhibition at the American Art Museum features models of a variety of unusual 19th-century devices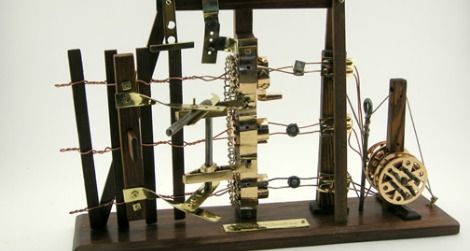 Need to make a paper bag in a hurry? Having trouble getting your pigeons to startle? Is your buggy rattling too loudly? These are some of the questions that inspired inventors in the mid-19th century. When they tried to patent their imaginative devices, they were required by law to include small-scale models to the Patent Office.
"Inventing a Better Mousetrap: Patent Models from the Rothschild Collection," a new exhibition at the American Art Museum, features an array of these intricate mechanical invention models, including the aforementioned paper bag making machine, pigeon starter, and, of course, the "better mousetrap" itself. "The creation of these models was really a mini-industry," says Charles Robertson, deputy director emeritus of the museum, and curator of the exhibition. "And as you can see, some of these are masterpieces of craftsmanship."
This isn't the first time these models have seen this space. The museum is housed in one of the country's finest examples of Greek Revival architecture. Construction on the building (which is also home to the National Portrait Gallery) began in 1836 and was completed in 1868 . But it was originally created for a much different function.
"Most people that visit don't know the building was originally the Patent Office Building," says Robertson. "Since it was built for this purpose, we thought it was really appropriate to have some historic connection."
True to its reputation as "a temple to the industrial arts," the Patent Office Building displayed more than 200,000 models in its lifetime, including the 32 selected for this exhibit. "The law required that a patent model be submitted with every patent application," says Robertson. "Twenty-five to thirty-five thousand patent applications were being submitted a year, each of which required a model, and some of them were really masterpieces of craftsmanship." Soon, an entire model-making industry sprang up around the Patent Office Building to craft delicate working miniatures of each invention.
The models exemplify the remarkable—and occasionally harebrained—degree of innovation that defined the era. "Compared with England and France, we had two, three, and even four times as many patents as those two countries put together," says Robertson. "There was really a ferment of invention."
Standing in this building, surrounded by tiny, bizarre contraptions, it's easy to feel transported back to the heyday of the industrial era. The variety of inventions ranged from the simple—a sliding extension ladder similar to ones used today—to the elaborate—the theft prevention device, which rigged a weighted chain to set off a loaded pistol if intruders tried to open the door. Many were made possible by the speed of technological advances. The 1877 electro magnetic railroad signal would have been unimaginable when George Washington signed the soap-making patent on display just a few yards away.
Some of the devices—most of which never made it to commercial production—are downright perplexing. "It's difficult, sometimes, to really figure out what they even were, because these things were invented 100 to 150 years ago," Robertson says. The exhibit even features a "Mystery Model" section, where visitors can try to guess what each model is supposed to do.
The life preserving container is one of several items that might confuse the untrained eye. "It's this metal thing that looks like it has two eyes," says Robertson. "It really seems like something out of a Jules Verne novel, or even a spaceship." The invention was intended to be attached to the side of a ship and discharged in case of emergency, and was outfitted with sleeping quarters, storage for provisions, and a sliding hatch for light and air.
Submission of models with applications was eventually banned in 1880. These 32 models have traveled a long, rocky path back to the Patent Office Building; first, a fire destroyed 87,000 models in 1877, and by 1924 the Patent Office decided to dispose of the survivors. Most were purchased by Sir Henry Wellcome, who intended to create a model museum before the 1929 stock market crash thwarted his plans. Another fire destroyed 15,000 of his collection.
Eventually, in 1997, they found their way to Alan Rothschild, a collector who holds more than 4,000 models—the largest private collection of American patent models in existence.  Now that they've returned to the Patent Office Building, it's clear that even in today's hi-tech world, the models retain the power to capture our imaginations.
Inventing a Better Mousetrap: Patent Models from the Rothschild Collection is on display at the American Art Museum until November 3, 2013. View the full slideshow of the items on display online.
With additional reporting from Aviva Shen.