The Origin of Blue Jeans
On the anniversary of Levi Strauss' death, learn the creation story of one of the most popular articles of clothing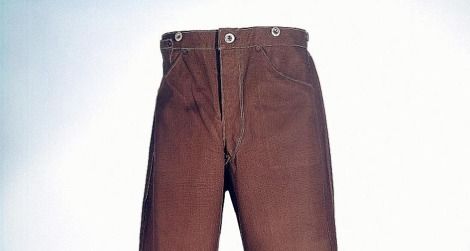 On the 109th anniversary of Levi Strauss' death, his chief product—blue jeans—have become a $91 billion per year industry, an icon of American culture, and quite possibly the world's most popular article of clothing. His name, more than any other, evokes the tough denim fabric and heavy stitching of America's favorite pair of pants. But the birth of blue jeans came under surprising circumstances—and the ancestral trousers barely resemble the blue jeans of today.
It all started in 1871, when tailor Jacob Davis of Reno, Nevada, had a problem. The pants he was making for miners weren't tough enough to stand up to the conditions in local mines; among other issues, the pockets and button fly were constantly being torn. "A miner's wife came up to Davis and asked him to come up with pants that could withstand some abuse," says curator Nancy Davis (no relation), from the American History Museum. Davis looked at the metal fasteners he used on harnesses and other objects. "At that time, he came up with the riveted trousers."
As local miners snapped up the overalls he made with rivet-strengthened stress points and durable "duck cloth," a type of canvas, Davis realized he needed to protect his idea. "He had to rush, due to the fact that these worked really well," says Nancy Davis. "He realized he had something." Lacking the money to file documents, he turned to Levi Strauss, a German immigrant who had recently opened a branch of his family's dry-goods store in San Francisco, and the two took out a patent on a pair of pants strengthened with rivets.
Davis soon moved to San Francisco, and wide scale production of riveted pants started for the first time. Strauss ran the business, while Davis became production manager. " actually was the person in charge of making sure that the trousers really did what they said they were going to do," says Nancy Davis. "He was the person who knew how these pants should work."
Business for the company boomed as pants flew off the shelves. "Strauss was doing pretty well in terms of bringing in merchandise from the East, but this was great because he didn't need to bring in everything. He could manufacture it there, and that cut out a lot of cost," says Davis. "He didn't make just the jeans, but this was the principal thing he was making, and they were very popular."
Essential to the Levi's name was the integrity and ruggedness of the trousers. As seen on the American History Museum's own pair of antique duck trousers, made sometime between 1873 and 1896, the label clearly proclaims "Patent Riveted Duck & Denim Clothing. . .Every Pair Guaranteed. None Genuine Unless Bearing This Label."
Even as the patent expired in 1890, Levi Strauss & Co. was already associated with a tremendously popular product and set up for long-term success. But introducing a new, more flexible fabric—blue denim—to go with the rivet idea proved to be the combination that would shape American wardrobes for more than a century and counting. "The brown duck continued to be used as late as 1896, and for a while it was side by side with the blue jeans," Davis says.
The 1890 creation of the iconic Levi's 501 style, in particular, led to the denim jeans taking over, eventually moving outside of the working class demographic and into the embrace of everyday casual fashion. "Initially, with Davis, it was the people who really needed serviceable pants, and needed them to last a lot longer than most," says Nancy Davis. "Then we have record of—as early as the 1930s—people, other than blue-collar workers, wearing jeans. You do have people wearing them who don't need to wear them, especially young people."
In the latter half of the 20th century—decades after Strauss' death in 1902—blue jeans achieved widespread cultural significance. "They really come to their apex in the 60s and 70s," Davis says. "The interesting thing is that this particular type of pants, the blue jeans, have become international," she adds. "It's what people think of. When they think of America, they think of blue jeans."