The Mickey Hart Collection in Rhythm with the World
Former Grateful Dead drummer Mickey Hart's curates a 25-album series of world music for Smithsonian Folkways that drops next week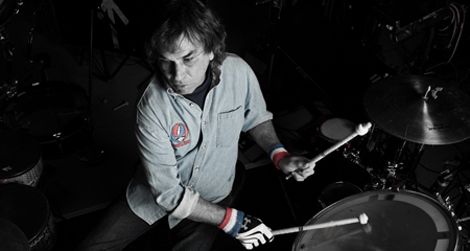 Mickey Hart, the former percussionist for the legendary San Francisco jam band Grateful Dead has never met a world beat he didn't like. And that's reflected in the new Smithsonian Folkways world music series that he's curating, "The Mickey Hart Collection," that will be released October 11.
Comprised of 25 albums, the series includes music from regions that span the globe, including Sudan, Nigeria, Tibet, Indonesia, Latvia and Brazil. Listen to the albums in this series and no doubt you'll come away having heard genres and instruments you've never heard before, like the ngoma, oud, bouzouki, darabukka, or the dungchen. The album series includes Hart's solo projects, plus other artists' productions, as well as re-releases of out-of-print titles.
But how did the drummer for a counter-culture jam band become entranced with rhythms from around the globe? It turns out he's been worldly for some time. "I was entranced as a young boy by the rhythms of West Africa by way of Cuba, Haiti," Hart told Smithsonian Folkways in a recent interview. "They all were the rhythms that spawned the music of American music, because they were everywhere and you could dance to them. They were polyrhythmic. They were dance music. And I loved the music that made you dance."
While living in the Bay Area during the late 1960s, Hart recorded exotic musicians like sitarist Ravi Shankar and sarodist Ali Akbar Khan. Though the musicians weren't household names in the United States at the time, Hart respected their virtuosity.
"I treated each recording as if it would sell a million copies," Hart recalled to Smithsonian Folkways. "I always recorded it at the highest resolution and had it mastered at the same place I was mastering Grateful Dead material."
Listen to audio samples from "The Mickey Hart Collection."