The List: Top 10 Tips for Solo Travelers
When you travel alone, you discover who you are when nobody's looking, you learn what you're capable of, and it's incredibly empowering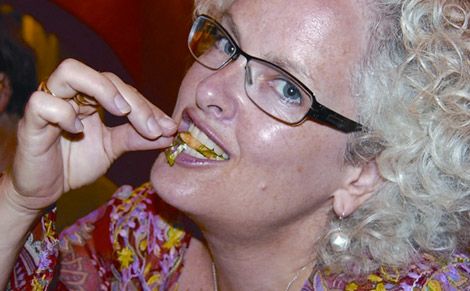 Ever wondered what it would be like to travel the world alone but been too scared to try? Solo travel specialist and blogger Janice Waugh says it's never too late to go for it. "When you travel alone, you discover who you are when nobody's looking, you learn what you're capable of, and it's incredibly empowering," she said. Waugh will join Washington Post food and travel editor Joe Yonan next week in a lecture for Smithsonian's Resident Associate Program to discuss their tips and tricks for traveling, cooking and eating solo. We caught up with Waugh before the event to get the skinny on what to do–and what not to do–when you're traveling alone.
1 ) Smile.
"The smile is an international symbol of being friendly, safe and open," Waugh said. Being friendly and approachable will make locals and other tourists more likely to help you out, start a conversation, or give you advice about where to go and what to do.
2 ) Eat at the bar.
When choosing places to eat, Waugh said, pick a restaurant with a bar or communal tables that will naturally foster conversation between you and other diners. Look for welcoming places with lots of locals. "When I sit at the bar, I rarely end up without a conversation at some point over the course of the evening."
3 ) Stay in a B&B.
Again, Waugh said, be social. Instead of a generic hotel, try a B&B where you can have breakfast with other guests and maybe make a few new friends. "If you want to kind of tuck yourself away and have some quiet time, then a hotel is going to be better, but in just about every case, a B&B will be more social," Waugh said. If B&Bs aren't your thing, go for a boutique hotel instead of a chain.
4 ) Stay in public.
Waugh's number one safety tip is to stay in public when you're traveling alone. Going into a private area, with our without others, is putting yourself in an unnecessarily risky situation, so play it safe and just don't do it.
5 ) Try an unexpected destination.
Although Waugh recommends inexperienced solo travelers try out a destination close to home or somewhere that English is spoken to get their sea legs, she suggests those with a few more miles under their belts try somewhere a little off the beaten track. Jordan, Chile and India are all great locations for solo travelers, she said.
6 ) Don't get drunk.
Whether you're at a local pub or headed to a concert, keep the drinking to the minimum. "If you enjoy going out to the bar and having a few drinks when you're at home, don't do that when you're on the road," Waugh said. "You don't have the same ability to read a room, read a person or read a situation when you're in a different culture."
7 ) Try a day tour.
Longer tours can stifle your wanderlust, but a day tour can be a good way to meet others and see the sights without having your whole vacation pre-scheduled for you. Waugh recommends scoping out groups of visitors on the tour and identifying the most approachable person to connect with. "Usually in that type of group, there's the gregarious person, and you can catch their eye and they're generally very happy to talk."
8 ) Go to an independent coffee shop.
Although chain stores can work as well, independent coffee shops are a good place to meet locals as well as get a jolt of caffeine. "Chains tend to be a little cooler, where local coffee shops tend to be more neighborhood-based," Waugh said. She added that you'll often find freelance writers, who tend to be very open, curious and helpful, working there.
9 ) Don't be flashy.
Don't flaunt expensive jewelry or gear or wear revealing clothing. You don't want to have a possession stolen in a place that you're not staying permanently and might not be able to communicate easily with police. Waugh also advises dressing significantly more conservatively than you would be at home to avoid attracting unwanted attention while you're unfamiliar with your surroundings and the local customs.
10 ) Choose a traditional pub at night.
A local pub is probably a better choice for a solo traveler than a trendy bar or flashy dance club, because it's easier to interact with and meet others, and less likely to be full of tourists. "Most pubs have a bank of seats with tables set up in an L-shape," Waugh said. "Sit at the short end of the 'L' and then you've got more command of the room and you can see what's going on and who you want to talk to."