The List: Six Things You Didn't Know About the Air and Space Museum on its 35th Anniversary
Since it opened on July 1, 1976, the museum has hosted a grand total of 303,674,128 visitors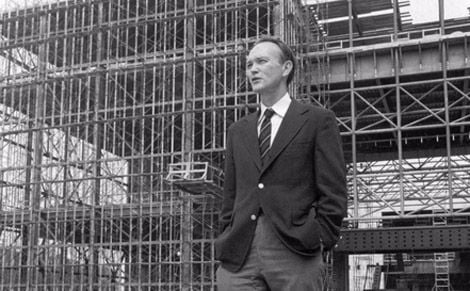 This Friday, the National Air and Space Museum will celebrate its 35th anniversary. Since it opened on July 1, 1976, the museum has been home home to the world's largest collection of historic aircraft and spacecraft and is the Smithsonian Institution's most-visited, having hosted a grand total of 303,674,128 visitors. At the ribbon cutting ceremony that summer day, President Gerald Ford called it "a perfect birthday present from the American people to themselves." To commemorate the museum's anniversary, we compiled a list of five cool things you might not have known about the much-loved Air and Space Museum.
1) In 1946, President Harry Truman signed Public Law 722, establishing the National Air Museum, the predecessor to the Air and Space Museum.  The museum's collections were interspersed between the Arts and Industries building and various other locations until Congress appropriated the money to construct the current Air and Space Museum, which finally opened in 1976.
2) One of the most peculiar objects at Air and Space is no longer on display. An electric, moving sculpture called the S.S. Pussiewillow II, the piece was created by British artist Rowland Emett. It has been in storage for about 20 years, but people still call and ask about it, said senior curator Tom Crouch. "It was life-size, and it moved—it whirled, it clicked, it lit up. It was wonderful, it was supposed to be a whimsical kind of spaceship," Crouch said. "We had to take it off exhibit because we had a power problem and a minor fire. It's been in storage forever now, but people, even now, are still asking about Pussiewillow II."
3) The 1976 ribbon-cutting began in true Air and Space fashion—with a signal from outer space. The Viking 1 spacecraft, which was in orbit around Mars at the time, sent a signal to NASA's Jet Propulsion Laboratory in Pasadena, California. That signal was then relayed to Washington, D.C., where it activated a mechanical arm that cut the ribbon in half. (But just in case it didn't go as planned, museum officials did have a pair of scissors on hand.)
4) The Air and Space Museum is more than just a collection of exhibits and artifacts–museum scientists are involved in research and exploration both about Earth and the solar system. According to program manager Priscilla Strain, Smithsonian scientist John Grant is a part of the Center for Earth and Planetary Studies, the team that directed the Mars rovers "Spirit" and "Opportunity."
5) Many museum employees bring real-world—or real-space—experience to the job. Two years after piloting the Apollo 11 command module and orbiting the moon while Neil Armstrong and Buzz Aldrin took those first famous steps on the moon, in 1971, astronaut Michael Collins became the museum's third director. Under his tenure, the museum consolidated its collections and moved into its current building on the National Mall.
6) Thirteen of the Air and Space's original employees are still employed at the museum today, 35 years later. Among them are Priscilla Strain and Tom Crouch, the mastermind behind the June reenactment of Civil War ballooning on the National Mall.
The National Air and Space Museum will celebrate its birthday on July 1 from 10 to 7:30. You can also read and share memories of the museum and see a timeline of its history online.