The List: 7 Ways to Celebrate Women's History Month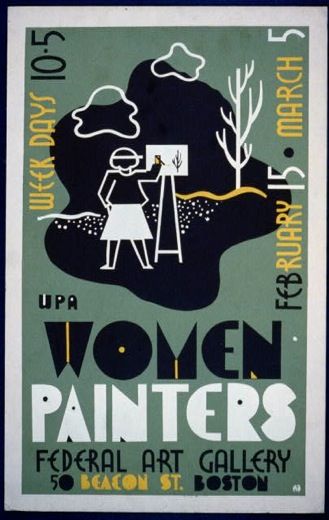 March is Women's History Month, and all around the Smithsonian Institution, the museums are celebrating the achievements, aptitude and sheer awesomeness of women in both the arts and sciences.
1. If you don't know your Grace Hartigan from the Harlem Renaissance or Miriam Schapiro from the suffrage movement, take time this month to educate yourself by taking the "Women in Art" tour at the American Art Museum. Learn more about the artists you already know and see the works of some lesser-known women artists. Tours are held every Thursday in March at 5 PM and Friday, March 11 and 25 at 5:30 PM.
2. It's Family Fun Day at the Air and Space Museum's Udvar-Hazy Center this Saturday, March 12, from 10 to 3 PM. With a focus on "Women in Aviation & Space," encourage the little scientist in your life with activities, presentations, performances and interactive simulators. Discounts on flight simulator tickets for all Girl Scouts and their families.
3. If you're in New York City, stop by the American Indian Museum's Heye Center for a little story time and craft making, Saturday, March 12 from 1 to 3 PM.  Learn about the amazing women of the Northwest Coast and see how they made wall hangings. Create your own and take your little piece of history home when you're done.
4. We all know the old adage "Ladies First," but how much do you know about our First Ladies? Find out this month, at the "First Ladies at the Smithsonian exhibition" in the American History museum. See the glitzy and glamorous items that once belonged to some of the most famous women in our nation's history.
5. Need a break from the mid-day doldrums? Why not make a lunch date with some smart women? Join curator Margaret Weitekamp, March 23rd at the Air and Space Museum from 12 to 12:15 PM for a conversation about "Women at  NASA." Learn about female astronauts, the history of women at NASA and the many contributions women have made to the field of space exploration. It should be out of this world.
6. Looking for a superhero worthy of the title? Well, the Smithsonian Channel is featuring five in its "Women in Science: Working Wonders." Every Sunday at 8 PM, watch the story of an amazing women whose work has made a world of difference— literally. And don't forget to check out the accompanying comics; these are the real wonder women.
7. Celebrate women in jazz all month long!
The Anacostia Community Museum's monthly Rhythm Cafe focuses on Women in Jazz this time around. Enjoy a lecture and musical performance on Brazilian singer Simone Bittencourt, presented by Karine Chapdelaine. Register for this free event, taking place on March 13th at 2 PM, by calling (202) 633-4866.
At the American History Museum, join the International Sweethearts of Rhythm for a conversation on the legacy of women in jazz, Wednesday, March 30th from 11 AM to 12 PM. Later on that evening, join the Sweethearts of Rhythm, members of the Jen Krupa-Leigh Pilzer Quintet and film director Judy Chaikin for a discussion on jazz and civil rights, followed by swing dancing and live music.
Cap the month off celebrating the lives and legacies of jazz greats Ella Fitzgerald and Lena Horne. On Thursday, March 31, from 12 to 1:30 PM, the American History Museum will also present "Ella Fitzgerald: First Lady of Song," a multimedia look at her life and career. Later on that evening, head on over to the Portrait Gallery for the special tribute "Remembering Lena Horne," from 6:30 to 9PM. Such a fitting way to spend the day.