The Jeweled Art of Sidney Mobell
Mobell is one of the world's most unusual artists: a craftsman who turns everyday items into extremely valuable works of jeweled art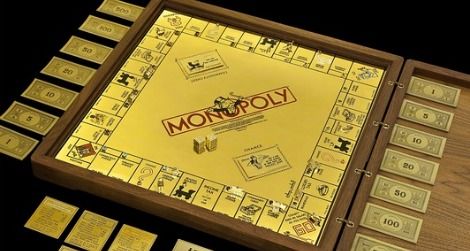 The Scottie dog, thimble and top hat are all 18-karat solid gold. The board is 23-karat gold-plated, from Free Parking to Park Place. The numbers on the sides of the gold dice are displayed by 42 diamond studs, and the Monopoly money is on gold paper. The set costs $2 million in total. Welcome to Monopoly, Sidney Mobell-style.
Mobell is one of the world's most unusual artists: a craftsman who turns everyday items into extremely valuable works of jeweled art. His expansive collection of precious everyday objects includes a jewel encrusted baseball and a sapphire-studded mailbox. His work spans from the lowbrow (a gold toilet seat and garbage pail) to the refined (a gold chess set).
Now, as part of Smithsonian Magazine's Museum Day, you can see the Monopoly board at the Museum of American Finance in New York for free. Visit the Museum Day site and sign up to receive a free ticket to one of hundreds of partner museums across the country on Museum Day, September 24. (To get an idea of the range of museums participating, see our recent blog post.)
Mobell started out as a normal jeweler, and his creation of jeweled objects began simply as a way to stay ahead of the competitors. As owner of a San Francisco jewelry store in the 1960s, he says, "I figured that I had to do something as far as competition, something different that nobody else does." He took a popular style of the time—the Mickey Mouse watch—and created a near-exact replica in gold. The resulting press attention led to him making a watch for Roy Disney, and then a Charlie Brown watch for Charles Schultz. Mobell, it seemed, had found his calling.
"People thought I was nuts, including my wife," he says. "They all thought I was crazy." But Mobell continued creating his uncommon valuables, generally introducing one new item per year to generate publicity for his store. For the birthday of Ray Kroc, who built the McDonald's franchise into an empire, he designed a gold mouse trap. The next year, he bought a can of sardines at the grocery store and decided to replicate it in 18-karat gold, with diamond sardines inside.
The creation of Mobell's legendary Monopoly board coincided with the 1988 World Monopoly Tournament, held in London by Hasbro Parker Brothers. "I contacted them, and they said, 'if you can make the thing exactly like our $30 Monopoly board, we'll send you to London and that'll be the feature item,'" Mobell says. "When I got there, the news hit, and it was picked up in every television station in London. All of a sudden I had become famous."
In 2002, Jeffrey Post, curator of the mineral collection at the Natural History Museum, paid a visit to Mobell to see his collection in San Francisco. "He came in and I took him down to the vault," Mobell says. "He looked at the things, and he said to me, 'Sidney, I've seen your things on television, and in magazines, and in books. Nothing really shows them until you've looked at them personally.'"
The museum accepted a donation of 20 of his works—including a gold and diamond pacifier, a yo-yo and a gemstone-covered cell phone—putting them on display in the exhibition "Everyday Fantasies: the Jeweled Art of Sidney Mobell." His 2004 jeweled replica of the Smithsonian Castle sits permanently on view in the visitor center.
When Mobell looks back on his career, he can't help but be surprised at the widespread appreciation of his unusual art. Though he was aware of the publicity surrounding it, he never thought it would become part of history. "Seeing my work there, I just wonder," he says, "whoever would have thought that I'd be in the Smithsonian?"