The History Behind a Slave's Bill of Sale
On a worn, aged piece of paper dated 1835, a judge describes the sale of a 16-year-old girl named Polly, with "yellow complexion and black eyes"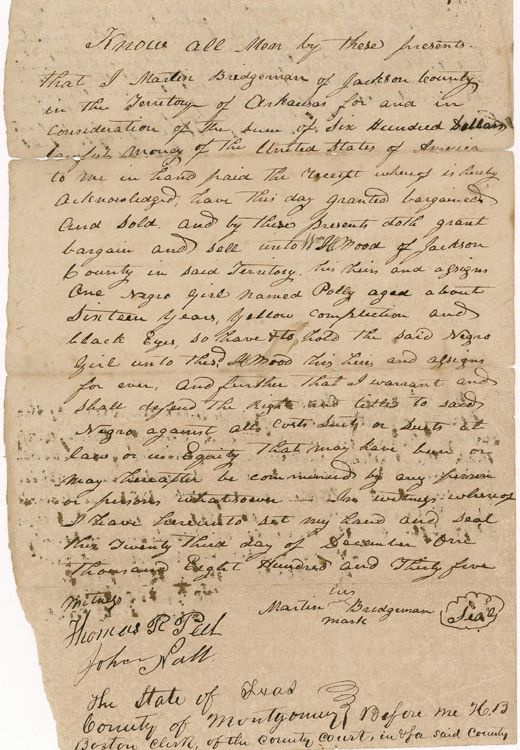 On a worn, aged piece of paper dated 1835, a judge describes the details of his sale: a 16-year-old girl named Polly, with "yellow complexion and black eyes," the sale and purchase of whom the judge says he will warrant and defend "at all cost."
The Bill of Sale, as documents like this became known, is one of dozens of new artifacts that the National Museum of African American History and Culture is assembling for its growing collections. The Bill of Sale is one that Director Lonnie Bunch says can enlighten people's knowledge about the lives of slaves.
"Part of what is so interesting to me is that there are so many aspects of the enslaved that we don't know anything about," he says. "But because they were treated as property we have a whole legal trail."
This particular document reveals several things about the enslaved. For one, the buyer and the seller were from Arkansas, Bunch says, indicating that at the time, the use of slaves was spreading from areas like North and South Carolina to places further south and west, like Alabama, Kentucky and Arkansas. Also, the price paid for the slave girl—$600—also offers a way to measure how slavery evolved in later years: By the time the Civil War began, Bunch says, a girl of Polly's age was sold for about $1,500.
Bunch says the bill will make an appearance in the museum, which is set to open in 2016. Its simplicity will help it reach many people, he says.
"I think for me whats most important is trying to close my eyes and imagine what this girl felt like, that she had no control over where she was going; she has no idea what the future was going to hold for her," he said. "The bill itself really is something simple, but to realize it's something about a person makes it very powerful."
To see some of the other artifacts in the NMAAHC's collection, visit the online museum.