The Funny Things You Do: America's Funniest Home Videos, We Love You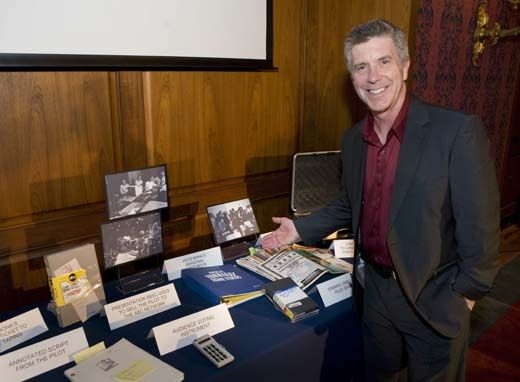 It was a perfect site to host a donation ceremony. In a grand room with burgundy wallpaper, wood paneling and gold chandeliers, men and women dressed to the nines milled about and quietly chattered, ignoring the camera crew and rapid-fire photography flash, in anticipation of the morning's big event at the National Museum of American History. After a few opening remarks from Melinda Machado, associate director of the museum, the lights dimmed for a brief screening of movie clips to introduce the objects about to join America's reliquary.
A woman stuck in a dishwasher. A wiener dog running around a back yard with a live firecracker in its mouth. A nun catching a wedding bouquet. And then there were a number of clips involving unfortunate incidents with a piñata stick hitting some poor guy in the groin.
That's right kids. The Smithsonian now lends its gravitas to America's Funniest Home Videos, which is currently enjoying its 20th season on the air.
Perhaps not the stuff of high art (although Homer Simpson will challenge you on that score), the series offers a very unique perspective on the human condition. "Humor and the ability to laugh at ourselves is an essential part of the American character," said Dwight Blocker Bowers, curator of popular culture at the museum.
If you somehow have managed to never see the show, home videos are screened before a live studio audience who then votes to decide which is the funniest, which in turn scores the winning videographer $10,000. The artifacts donated to the Smithsonian include the first ever video to win from the very first episode, as well as the camcorder used to film it, and one of the audience voting machines.
Producer Vin Di Bona saw home videos as small documentaries of American life that tap into the foibles and pratfalls that everyone has experienced. After the ABC network decided to pursue the idea, ads were placed in magazines and on Good Morning America, asking people to send in their tapes. Di Bona received about 150 to 200 tapes a day after that, which was plenty for a pilot.
America's Funniest Home Videos premiered Thanksgiving weekend 1989, while the East Coast was in the throes of a snowstorm—which meant that plenty of people were bundled up at home to tune in.
After the airing, Di Bona began receiving about 36 mail bags of videotapes a day. "We're about capturing America in a funny vein," Di Bona said. "And I still don't know why people buy trampolines after watching our show."
So, as I'm sure avid watchers of the show know, there have been various incarnations of the program over the years. And by various, I mean three.
After you're through with our poll, what are your favorite AFV clips?