"The Cats of Mirikitani" Screening at the Renwick Gallery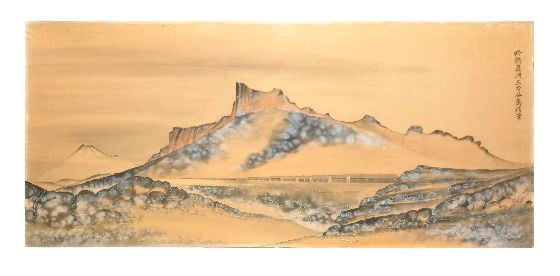 Among the more than 120 works of art made by Japanese-American internees during World War II featured in the Renwick Gallery's "The Art of Gaman" exhibit is an eerie painting of Tule Lake. In the background stands Castle Rock, its beauty in bold contrast to the austerity of the Northern California internment camp's seemingly endless row of barracks.
Looking at the painting, one can't help but wonder about the artist, his experience at the camp and the emotions engrained in the landscape. Fortunately, The Cats of Mirikitani, a 2006 documentary about the artist, 90-year-old Jimmy Tsutomu Mirikitani, offers some insight. The Renwick Gallery is screening it Sunday, August 29, at 2 p.m.
Linda Hattendorf, a New York-based producer and director of documentaries, befriended Jimmy Mirikitani in 2001. Homeless, he worked on his art—drawings of cats, internment camps and atomic bombs— under the awning of a grocery store near Hattendorf's SoHo apartment. After 9/11, the smoke and dust took a toll on the artist's health and Hattendorf invited him into her home. She learned the man's life story. He was born in Sacramento in 1920, raised in Hiroshima, Japan, and then returned to the United States at age 18 to pursue a career in art. Soon after, he was interned at Tule Lake. Eventually released, he ended up in New York City in the early 1950s, where he became a live-in cook for a resident of Park Avenue. When his employer passed away in the late 1980s, Mirikitani was left jobless and homeless. He sold his artwork to survive.
The Cats of Mirikitani tells the story of Jimmy Mirikitani and how, with the help of Hattendorf, he comes to terms with his past and lands on his feet, living in an assisted-living retirement center. The New York Times described the 2006 Audience Award Winner at the Tribeca Film Festival as "a brief but satisfying look at a defiantly self-sufficient life," and New York Magazine declared it "a profoundly gripping film, with a cumulative impact that may well wipe you out."
Hattendorf and co-producer Masa Yoshikawa will be in attendance at the Renwick Gallery on Sunday and partake in a question-and-answer session following the screening. Be sure to check out Mirikitani's painting of Tule Lake and the rest of the "Art of Gaman" exhibit, open through January 30.