The Case of the Disappearing Mailboxes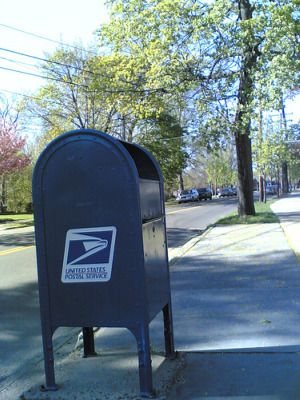 Nancy Pope, a curator at the National Postal Museum, started getting phone calls two years ago from reporters asking about the removal of standard, four-foot-tall blue mailboxes from street corners. She heard from newspapers in small towns first, mainly in the Southeast, Northeast and Midwest. "It could be the smaller the community, the more obvious it was," she says about the phantom letterboxes. But now the trend is being noticed in cities like Chicago, Boston, New York and here in Washington, D.C. According to a recent article in the Washington Post, half of the blue boxes in the Washington area have disappeared in the last nine years, and 200,000 nationwide have been plucked up in the last 20 years, leaving 175,000 total.
"They are using the blue mailboxes to get to the story they really want to talk about, which is where is the postal service going?" says Pope.
Guess she caught my drift. In this texting, twittering world, who hand writes a letter anymore? Or, of more impact according to Pope, who doesn't opt for online bill payments these days?
"It's very hard for me to get my head around where the postal service is going to be in five or ten years," says Pope. "But it's easy for everyone to understand that that thing that was on the corner of their street isn't there any more."
She calls the mailboxes pieces of iconic Americana and mentions two that are in the museum's collection. Maybe if all the boxes were as creative as the one painted to resemble Star Wars' R2-D2 and signed by George Lucas and Post Master General Potter, currently on display at the National Air and Space Museum's Udvar-Hazy Center, we'd be more enticed to feed them.