The Bold, Brash Fashions of Rodarte at the Cooper-Hewitt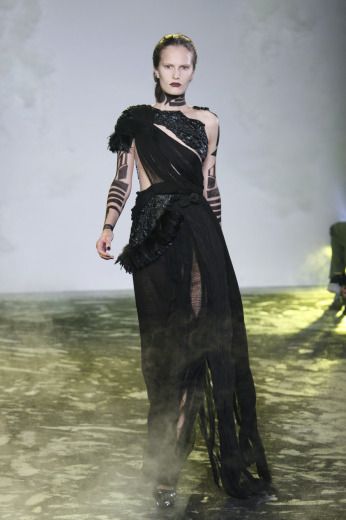 In 2004, with $16,500 in hand after opting out of a trip to Italy and selling off a rare album collection, sisters Kate and Laura Mulleavy started crafting an avant-garde clothing line. The recent Berkeley grads—Kate majored in art history, and Laura, in English literature—had no formal fashion training, just the sewing skills they learned from their mother and the taste they acquired from glossy magazines. And yet in just six months, spent working at the kitchen table of their parents' home in Pasadena, California, they produced a handful of dresses and coats that landed them on the cover of Women's Wear Daily, an authority in the industry. Soon enough, they graced the pages of Vogue.
Kate, now 30, and Laura, 29, have become two of the most talked about American designers. Keira Knightley, Natalie Portman, Reese Witherspoon and Michelle Obama have all worn gowns under the Mulleavy's label, called Rodarte, after their mother's maiden name. To cap off a string of impressive awards, Rodarte was named the 2009 Womenswear Designer of the Year by the Council of Fashion Designers of America. And their rags-to-riches story was recently profiled in the New Yorker.
The Mulleavy's talent hasn't gone unrecognized by the Smithsonian's Cooper-Hewitt, National Design Museum either. Last year, the museum selected Rodarte as a finalist in the fashion design category of its National Design Awards. And now, just in time for New York City's Fashion Week (February 11-18), the label is the subject of an installation in the museum's "Quicktake" series, meant to introduce the public to cutting-edge design. "Quicktake: Rodarte," open through March 14, features an array of Rodarte's dark, brash, almost gothic garments.
"Early on, I think a few important editors were startled that these two unlikely sisters from Pasadena could come out of the blue with such beautiful clothes, realized with a focused vision. Then sometime around their Fall 2008 show, they started making things we've never seen before, complex at such a high level of sophistication, fearless and totally on their own terms. There are no designers in America working this way," says Gregory Krum, director of retail at Cooper-Hewitt, who is curating the installation along with Susan Brown, assistant curator in the textiles department. "Some designers work a lifetime to get to the level they have achieved in just five years. I think their work raises the ceiling even for established designers, not to mention up-and-coming ones."