That Time a Chicken Crashed Nixon's Inaugural Ball and Other Crazy Inaugural Tales
Ten quirky moments from inaugural history, including presidential lassoing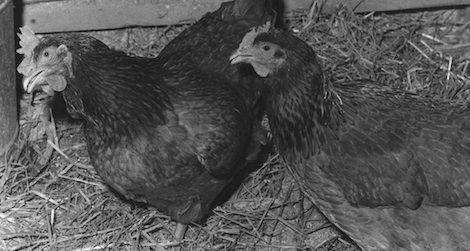 Not officially on the guest list for Richard Nixon's 1973 inaugural ball, this chicken decided to check out the scene anyway. Courtesy of the Smithsonian Institution Archives
With Richard Nixon's first inauguration, the president threw a party not to be beat. "Nixon girls" from the campaign served as hostesses for six inaugural balls. One ball at the Smithsonian was so popular, the cloakrooms were overrun, according to the Boston Globe, forcing guests to carry their minks and umbrellas with them during the celebrations.
But the party animals had competition from real animals for the spotlight.
Remembering Nixon's first inauguration, Bob Schieffer of CBS recently told Jon Stewart on the Daily Show about his assignment to cover activist Abbie Hoffman's activities at the ceremony. "They decided while Nixon was being inaugurated, they would inaugurate a pig and they did, down at the Washington Monument."
"And then the pig got out . . . it was raining and we chased the pig around." When his mother asked later about the inauguration and the dresses the ladies wore, Schieffer told her, "Mama, I'm out here chasing a pig around in the rain. I didn't get indoors."
By the time Nixon took office again in 1973, support for extravagant balls and parties was ebbing. Inaugural officials had one goal, according to the Washington Post, "Making President Nixon's second inauguration break even or show a surplus," because, "all other second inaugurals in American history, officials say, have lost money."
But that didn't stop Nixon from having a good time. At a gala at the Corcoran Art Gallery, one party-goer eagerly told waiting friends, "Get in there somehow. I don't care where you been, you never saw anything like it," according to the Los Angeles Times. A ten-dollar ticket got you into the reception where "tables sagged with foods, wines (imported and domestic) and other beverages from more than 20 nations." The foods, meant to honor "the many minority and ethnic groups who have contributed to America's cultural traditions," included, "Texas barbecue on sourdough rolls; Smithfield ham biscuits; Fisherman's Wharf dories; Down East codfish balls, Eastern Shore (Md.) crab cakes; banana nut bread, shrimp jambalaya miniature fried chicken" at the American Table. Similarly the Greek, Mexican, Chinese and Irish tables also offered delicious fare. Polka, gospel, jazz and other music from around the world kept the crowds dancing well into the night.
And that was just Friday.
By Saturday, January 20, things were getting a little animalistic yet again.
This time it was chickens crashing the party, quite literally. At a ball held at the Smithsonian's Museum of History and Technology (now the American History Museum), a Dominique Red rooster escaped from an exhibit on farm life and cozied up to a dolled-up guest in one of the $1,000 guest boxes. "A guest objected she was being molested," read the AP photo caption. Smithsonian secretary S. Dillon Ripley hurried to rescue her from the curious clucker. The chicken v. Nixon story still circulates through the halls of the American History Museum.
Read more on the ball from the Archives' "Smithsonian Collections Blog."
Other Quirky Moments in Inaugural History:
Fashionably Late: The first ever inauguration was 57 days late. With electoral college results still outstanding, George Washington was not the confirmed victor until April 6, 1789. Even with so much time to presumably prepare, the event still hit a snag when they discovered no one had a bible on hand for swearing in. They had to borrow one from the Masonic Lodge.
Bum of the Ball: "I would much rather be in bed," declared James Madison at the first ever inaugural ball in Washington, D.C. held in his honor in 1809. Tickets were four dollars each.
Crowd Control: Though Andrew Jackson was in mourning for his recently deceased wife when he was sworn in as president in 1829, the crowd was overjoyed. The riotous group of 20,000 supporters returned to Jackson's official residence after the president's address and promptly began breaking crystal and running amok. Jackson had to escape through a window.
The Odd Couple: When Lincoln arrived at his elegant inaugural ball in 1861, he did so arm-in-arm with his vice president. His wife, meanwhile, cozied up to Senator Stephen Douglas, Lincoln's longtime rival.
A Cold Day: With temperatures around freezing and a blizzard raging, William Taft's inauguration day in 1909 inspired him to remark, "I always knew it would be a cold day when I got to be president." Perhaps to keep him warm, his wife rode with him from the Capitol to the White House, the first time a first lady would accompany the president for the trip.
Back Porch Politics: In 1945, Franklin Delano Roosevelt had his fourth inauguration on the back porch of the White House. The wartime ceremony was a brief 15 minutes.
Wild West: Dwight Eisenhower's inaugural parade in 1953 included 62 bands, but the showstopper was California cowboy Monty Montana, who lassoed the new president.
Puppy Love: In 1965, one very special guest made an appearance in the reviewing stand with Lyndon Johnson: his pet beagle.
Train From Georgia: Jimmy Carter rode a leased Amtrak train, "The Peanut Special," from Georgia to Washington for his inauguration in 1977. He carried his simple style into the event, taking the oath in a $175 business suit.
Wail to the Chief: By the time Bill Clinton took office in 1993, his saxophone prowess was well known. At an evening ball for his fellow Arkansans, he took the opportunity to borrow a saxophone and perform once more to the delight of the audience.
Compiled from the CBS News' Inaugural History Guide.
Read about more notable inaugural firsts here.